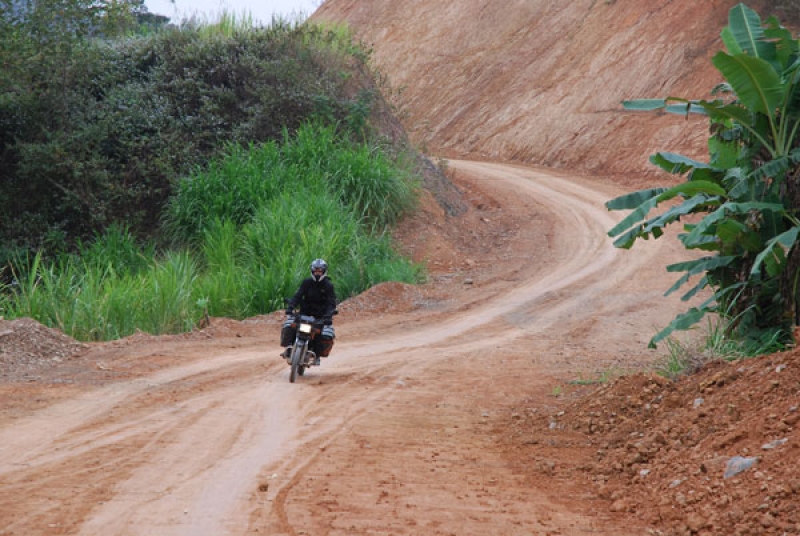 Written by Cheryn Flanagan
Sunday, 10 September 2006
"You see real Vietnam," Dung yelled back to me as we sped along the twisting, snaking asphalt of the Ho Chi Minh Trail. The jungle was all around us: a jumble of a million different leaves, grasses, textures, shapes, shadows, and shades of green, all enveloped in the blue hue of morning light. Above us, the heavens were a battlefield of lucent white skies and lead-colored rain clouds, sparking lush green hills and bathing others in shadow. I could feel the wind and hear the place: the roar of a waterfall, the electric chirrup of insects, the caws of birds. Off in the distance, a fine mist smudged the jungle's timberline and the mountains beyond, consuming the road we traveled, as we wound our way into the heart of the Central Highlands.
Benjamin, my travel partner, and I hadn't planned to visit the Central Highlands when we arrived in Vietnam. Like many people who journey here, our plan was to travel the country's eastern seaboard on Highway One, which traverses the length of the country and links Hanoi to Ho Chi Minh City, along with a handful of other tourist haunts along the way. Highway One owes its popularity to the 'open bus circuit', which allows tourists to hop on and off the bus at a string of destinations without the constraint of a schedule to keep. It's a cheap way to travel, considering you can make a trip from Hanoi to Ho Chi Minh City for under $30.00 on an air-conditioned 'luxury' bus. But convenience and cost aside, a trip along Highway One feels more like a Disney ride; the cities along its path have been commercialized for the tourism boom and with the numbers of foreign visitors, they have lost a certain feeling of authenticity. It didn't take long before Benjamin and I found ourselves wishing for a less prescribed way to experience Vietnam.
Enter the Easy Riders. They're a group of freelance motorbike guides, based in the Central Highlands and South Central Coast, who take travelers on the back of their bikes to see "real Vietnam". We met Dung (pronounced like Young) in our hotel lobby in the pastel-washed town of Hoi An. He'd just arrived from Nha Trang with an English couple who told us ride was excellent, the roads decent, and that their 4-day ride was, "…incredible; the highlight of our SE Asia travels." Dung had two bikes and was looking for customers to make the return journey to Nha Trang. We signed up. On a quest to find the real Vietnam, we rode into the Highlands on the Ho Chi Minh Trail, a journey that would span four days and cover almost 500 miles, traveling by motorcycle through some of Vietnam's more remote areas.
The modern day Ho Chi Minh Trail is more symbolic than exact – it's not the original tail, but a relatively new highway, which was completed in 2002 to the chagrin of many who believed it to be a foolish endeavor, a colossal waste of money, and a tribute to an artifact of war that represents bloodshed, death, and to some, defeat. And although it's not the 'real' trail, there are plenty reminders of combat, with long forgotten American landing strips and barracks intermingled with Vietnamese cemeteries and war monuments. Blood-red flags emblazoned with a single gold star line the road – a reminder of Vietnam's quest for unity and harmony, long embroiled in conflict.
Despite the images of war, a journey along this road, as it winds along the Truong Son Mountains, is one of immense beauty, with a diverse population of ethnic minorities and a varied landscape: farm land and bucolic emerald fields; soft, swelling hills; ruddy, rolling rivers; hardwood rainforests, waterfalls, miles of rice paddy, cornfields, black pepper farms, rubber tree forests, and coffee plantations. It was Dung's habit to stop suddenly, pulling over to the side of the road to take in the views or to traipse through the fields of a farm or plantation. He would pull plants right out of the ground to show us how yams or peanuts or lemongrass grow; tug coffee beans, soybeans, and green beans right from the bush; dip fingers into bowls of rubber tree sap.
Much of our time was spent motoring, and stopping, along the highway in this way. Coiling, curling mountain roads; flat stretches lined with colorful bursts of bougainvillea; rustic villages with homes of rammed earth and wood planks; lively cities with whirling traffic circles and beeping horns; fleeting scenes of life: children returning home from school, women shopping, pigs on their way to the marketplace, farmers harvesting their fields, young boys shepherding herds of cows, businessmen making deals, wedding parties, funeral gatherings… ordinary things that become extraordinary in a foreign land.
We took breaks at roadside stalls and restaurants where we always found government men drinking beer in the afternoon. At times we found more peculiar sights, like a monkey and dog at play, seemingly ignorant of the fact that primates and canines usually don't get on very well. Once in a while, we'd stop at a restaurant without any customers, and the matrons would devote all of their attention to us, telling Benjamin he is handsome and that he has a beautiful nose, encouraging me to cover my tanned arms to preserve my beautiful white skin – all done with sign language or with Dung's translation. The curious women inspected our clothes and our faces and touched the hair on our arms. They tried on our sunglasses, and inquired about the use of odds and ends in our backpacks, like hand lotion or lip balm. They always wanted to know where we were from and how we liked their country. They smiled when we told them the Highlands were beautiful, the twinkle in their eye full of pride.
But the physical beauty of the Central Highlands cannot conceal a past and present fraught with conflict. "Many people die here in the war," Dung told us often. This, his explanation to other admonitions, "I don't stop there because they no like tourists." The Central Highlands were an important strategic location for U.S. forces during the American War, and many of the places we passed through along our journey, cities like Kontum, Pleiku, and Buon Ma Thuot, were heavily bombed during B-52 air raids. And, as Dung said, many people died. On occasion, Dung told us to say we are Canadian instead of American. This advice led me to rip up several hotel registration forms with 'Canada' written as our country of origin when I realized that we'd have to hand over our U.S. passports to the hotel management for the night. Dung laughed at my folly. "No problem," he said, leaving me feeling bewildered and embarrassed. It was hard to know when to be American and when it was best not to be. But I never felt unsafe during the course of our travels – I wondered if Dung was not just a bit paranoid.
But perhaps Dung's caution was not completely unwarranted. The Central Highlands have not always welcomed out-of-towners. In fact, the region was closed to foreigners until 1992 and then again for periods of time in 2001 and 2004. Until the '90s, the sensitivity stemmed from rumors of secret re-education camps said to be hidden in the area. In 2001 and 2004, travelers were refused entry because of local uprisings over human rights violations and land disputes. The Central Highlands is home to a large population of hill-tribes – ethnic minority groups, or Montagnards, as the French named them. Many of the Montagnards helped the Americans during the war and for this, among other things, they have been victimized. Quite a few have fled to Cambodia, seeking ultimate asylum in the U.S. The issue is ongoing: during our travels in the Central Highlands, the Montagnards were again in the news. 100 people from a group of 700 who escaped to Cambodia in previous years were being sent back to Vietnam.
We met many of the Montagnards as we traveled the Ho Chi Minh Trail; Dung would pull over to the side of the road at a house or a village and suddenly, we were ushered into their world, their homes, and their lives. Our initial encounter took us by surprise. When we left Hoi An, we didn't know the protocol for such visits. While we did know we'd be meeting hill-tribe people, we didn't realize it would be so random and impulsive. All it took was for Dung to notice someone was at home.
Our first of such stops was a home occupied by a single family, 20 people and 3 generations, all living together under one roof. Inside, it was dark and cool, with shafts of sunlight streaming in between the bamboo slats of the walls. Numerous animal skulls were mounted to the ceiling, some charred black from the cooking fire; rudimentary hunting tools leaned against a wall; tobacco leaves were hung to dry; chickens pecked and roamed freely; a litter of puppies scampered about; old men and younger men swung lazily in hammocks; a cooking fire smoldered in a corner; old women dressed in traditional garb crouched on the floor; a few children gnawed on fat stalks of sugar cane; a group of teenage girls sat at a table eating a lunch of fish and rice.
"They are Sedang people," Dung told us, and of the older generation at home that day "they not speak Vietnamese." Many of the ethnic minorities have their own languages, and while the younger generation learns Vietnamese in school, the old folks are locked in a time warp, unable to communicate with the outside world. The generation gap stretches beyond language, though. The government has done much to assimilate the Montagnards, and the result is a visible divide between the old and the young. In this house, the elder women were dressed in traditional clothes, while the younger girls and boys looked like they could have come straight from the city, with bleach-streaked hair and silk-screened t-shirts. Seeing them all together was like witnessing the past in a collision with the future.
"They very poor, they work for themselves," Dung explained. "They grow corn and hunt at night with flashlight and gun. Shoot the snake, shoot the pig." From the array of skulls mounted to the ceiling, it appeared that they eat many animals: cats, dogs, goats, cows. "They have simple life," Dung continued, pointing to the kitchen, which was nothing more than a fire pit recessed in the bamboo platform. There were no modern-day conveniences, no plumbing or electricity… and upon noticing a small, fluorescent light bulb mounted to a support beam, Dung showed us the power source: an old car battery. And while it was covered in dust and cobwebs, it seemed to be one of the family's most valued possessions.
We met more Montagnards in Kontum, children left parentless from disease, farming accidents, and, I presume, clashes with the government during ethnic uprisings. Dung described the latter, obliquely, as 'hill-tribe wars'. There are over 300 orphans at the two homes we visited, with a representation of 10 ethnic minority groups, and ages ranging from newborn to 20-years-old. Outside one of the orphanages, a Catholic church stands next to a traditional Bahar rong house, an odd juxtaposition of steeple and thatched roof. Christianity was brought to the Montagnards in the early 1900s and still remains strong in the community.
Most of the children we met were friendly and affectionate, but some of them bore a haunting countenance of sorrow. The younger children, perhaps in the naivety of youth, seemed less affected by their loss. They approached us with huge smiles, holding their half-eaten lollipops out to us as gifts as they climbed onto our laps, and nuzzled their faces against our shoulders. It was at one of these orphanages that we met Cham.
A man with a humble disposition and a face lined by time, Cham has worked at the orphanage for 6 years as a teacher. He told us he was orphaned himself at the age of 11 – the communists killed his father outside of Pleiku, the body was never recovered. Cham smiled when he learned we were American, saying, "I was a captain on the American side – an advisor to the U.S. during the war." He can't have been the only person we met in the Highlands who'd been on the losing side of the war, but he was the only one who talked about it. Cham told us that he'd gone to prison camp in 1975, where he spent more than 2 years upon defeat in the war, and added that if he'd been imprisoned for just a little longer – 3 years – he would have been eligible to immigrate to the U.S. I could tell by the look in his eye and the sound of his voice that he very much wanted for that to happen. Life was tough for Vietnamese on the 'enemy side' after the war, and still is today. "I am unlucky," Cham told us. It is the Vietnamese way to associate the good and bad in life with luck.
And for the unlucky, traveling the Ho Chi Minh Trail can be dangerous. The highway is lined with spirit houses and graves where people have died in accidents. "33 people die there when the bus went over," Dung pointed out as we rounded a curve on one of the highways' many steep mountain passes. And it's not just the road that can be dangerous, it's the other drivers, animals, and weather, too. Giant, tank-sized trucks and slipshod drivers ran us off the highway at times; dogs, cows, chicken, and geese wander onto the road; man-eating potholes, unpaved roadway, rickety wood-planked bridges, mudslides, floods, and fallen rocks make the highway an obstacle course of video game proportions. And, we had rain. At times a light mist, but at others, a torrential downpour. Our journey brought us to the Highlands in July, during the wet season. At times we were forced to ride through a storm, chasing the blue sky and rainbows we could see in the distance.
We only saw a handful of other Westerners in our four days on the road, less people than I counted in a single hour at the café where we had breakfast on the morning we left Hoi An. Many of them were also traveling by motorbike, but some of them were also in cars. It might seem safer, or more comfortable, to travel by car. But on a motorcycle, without the barrier of doors and windows and an encasement of metal, you can feel the weather: the hot rays of the sun and the stinging pelt of the rain. You can smell the place: the sweetness of wet earth, the exhaust from belching trucks, the aroma of cooking fires. You can feel the road: the cracks, the composition of the pavement, the curves. And at the end of the day, you can feel it all on your skin, somehow softened by the sun, the wind, the dust, and the grime. Traveling by motorcycle is the ultimate feeling of freedom. It is, Benjamin whispered to me late one night, the best feeling in the world.
At our journey's end, we again found ourselves in the jungle and I was reminded of Dung, on that first day, yelling back to me, "You see real Vietnam." I came to understand in the days in-between that like the jungle, Vietnam is a tapestry of textures, shapes, and shadows, all woven together in a cloak of unity. It's a place scarred from its long history of war, with old wounds that haven't quite healed and new wounds opening up every day. It's a place with open arms and closed doors. It's enigmatic, diverse, and multilayered, with a varied landscape and a rich cultural diversity. It's a place of beauty and strife, pride and prejudice.
When the road we'd been traveling met up with Highway One, congested with tourist busses on their way to Nha Trang, Dung pulled over one last time at a shack selling sugar cane water. "I show you real Vietnam," he said after some time of silence. I looked at the bored faces staring out from windows of the tour busses speeding by and replied, "Yes Dung, you did."
Source: http://www.bootsnall.com/
Collected by Vietnam Travel Blog