Until recently, the 16-island archipelago of Con Dao, 180km south of the southern beach town of Vung Tau, was a place most Vietnamese wanted to forget. For 113 years, this island was home to one of the country's harshest prison systems, known the tiger cages, established by French colonists in 1862 and later ruled by South Vietnamese and American forces until Saigon fell to the North Vietnamese in 1975. Its name has been tied to an ugly history that evokes images of torture and cruelty.
But despite its not-so-pleasant past, Con Dao is one of Southeast Asia's most untouched and breathtaking getaways. Its surrounding waters offer a visual feast, with over 1,000 hectares of stunning coral reefs teeming with a colorful array of marine life. Travelers with a special interest in nature will be thrilled with the diverse range of plants and animal life growing in the island's forests.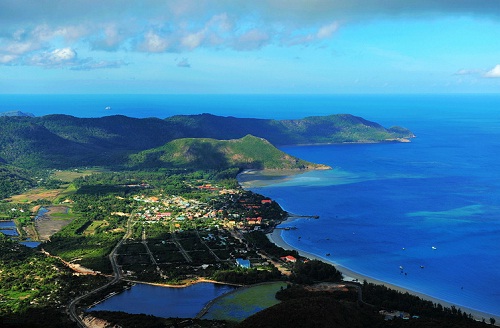 Though there was indeed a lack of development for several decades, the number of flights from Ho Chi Minh City to the archipelago continue to increase. The reason why many are lured to Con Dao is its natural beauty that is unrivaled with the rest of Vietnam. Of the archipelago's total area, 83 percent is protected by the Con Dao National Park, including over 50 square miles that make up the country's first marine reserve.
With its abundant beauty, the islands seek to take advantage of its tourism potential to good effect. Compared to the massive numbers of visitors that arrive in Phu Quoc Island or Nha Trang every year, the 35,000 to 40,000 tourists that come to Con Dao may be just a small fraction. In 2005, authorities decided tourism should play a key role in Con Dao's development and plans were made to increase its population to 50,000 and the number of tourists to between 500,000 and 700,000 annually by the year 2020.
Having seen the wonderful tourism possibilities of the archipelago, many investors around Vietnam and from across the world wooed the Con Dao District People's Committee on their investment offers to expand it touristic segments. However, unlike Phu Quoc and Nha Trang, the people and authorities of Con Dao do not want to exploit what people had come to see. Though developments are always welcome, it should never change the immaculate image and pristine state of the island. With help from organizations like the World Wildlife Fund and the United Nations Development Program, the park has just won approval for a $16.5 million development plan through 2020, which will finance natural resource protection, research and eco-tourism.
In April 2009, 20 fishermen were selected to assist the project in replanting an area of 40 hectares of coral reef. Their involvement in the project greatly helped in increasing the fishermen's interest in coral conservation and discouraging them from engaging in destructive fishing practices.
Even up to now, despite the island becoming more a tourist destination, only a handful of tourism companies are offering tours to Con Dao. The island also is also limited in terms of tourist accommodations. Other tour companies are looking at offering more diving and trekking services on the archipelago. The UNDP Sustainable Development Cluster implemented a project that assisted three fishing households to provide tourism transport. Such project helped provide livelihood to locals along the coast.
The park has also recently made an effort to regulate tourism activities in small islets. Such move is important to allow tourism, yet still prevent the disruption to nature and the species' ecological balance. Several developments are visible and more are still underway. These days, officials on government-sponsored group tours make pilgrimages to the crumbling stone prisons, which have been turned into museums that depict the suffering endured by their comrades. Other buildings constructed by the French have been converted into cafes and private homes in the main town, which consists of little more than a daily market, a few seafood restaurants and a couple of souvenir shops selling shells, carved wooden canes. The entire Con Dao indeed is so far from what it used to be when it was ran by the French.
All investment projects now ran in the island ensured to follow the sustainable development principles of having minimal impacts on its environment and natural resources. Such efforts allowed tourists to still enjoy peace and quiet and have close encounter with untouched nature despite being in a tourist site.