Many visitors and local residents in HCM City are very eager to visit the Saigon Skydeck observatory on the 49th floor of the Bitexco Financial Tower to see the city from above.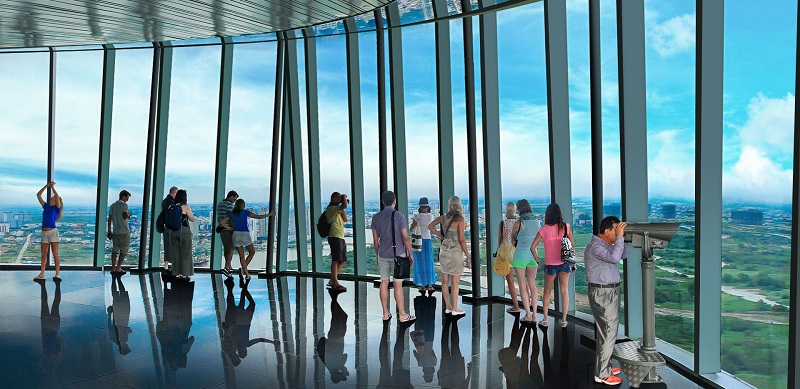 The 178m observatory opens from 9.30am to 9.30 pm everyday. It has become a destination for many visitors who want to discover HCM City by binoculars.
Mrs. Lucy, 65, from New Zealand, said: "I've been here twice and I'm impressed by Ho Chi Minh City panorama from the top. I will return to this observatory with my friends."
Mr. Phil, 40, a British visitor who comes to the observatory with his girlfriend, said: "Though the observatory does not have entertainment services, it is interesting to see the whole HCM City at the height of nearly 180 meters. I like the lotus-shaped design of this building."
However, most of Vietnamese visitors said that the observatory ticket prices are too high.
The ticket for adult is priced VND200,000 ($9), VND130,000 for children from 4 to 12 and the elderly of over 65 years old. It is free for kids of less than 3. Group visitors will enjoy softer prices.
Saigon Skydeck is equipped with six long-range binoculars, enabling visitors to see details in Saigon's streets very clearly.
The observatory also has six screens on the glass wall, which display information about the city's landscapes or relics.
Saigon Skydeck is the first 180m observatory in Vietnam. It is located in HCM City's tallest building, the Bitexco Financial Tower.
(Source: VNE)