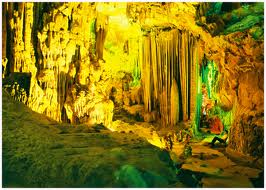 Thien Duong Cave in the Phong Nha Ke Bang National Park, a UNESCO-recognised world natural heritage site in the central province of Quang Binh, has become a favourite destination of domestic and foreign tourists.
After visiting the cave, many people recognised its irresistible magic, saying that this is really the most beautiful wonder of the Creator on earth.
Thien Duong was labelled the world's most beautiful and magnificent cave when it was discovered by scientists from the British Cave Research Association in 2005.
Located in the middle of the Phong Nha-Ke Bang National Park, about 4 km west of the Ho Chi Minh Road, the cave, which is believed to be formed hundreds of millions of years ago, is surrounded by underground streams and rocky mountains.
Thien Duong Cave is 30-100 metres wide, with the widest point measuring 150 metres. With a length of over 36 km, it is considered the longest dry cave in Asia.
After crossing an old forest, visitors see the entrance to the cave shaded by century-old trees and are then dazzled by the mysterious beauty of stalactite pillars, each dozens of metres in diameter, and grandiose rock arches, which are works made by the enchantment and sudden inspiration of the Creator over the past millions of years.
The Truong Thinh Group, the operator of Thien Duong Cave, has invested VND tens of billions in a tourist project that aims to "draw visitors from all over the world".
Quang Binh provincial Department of Culture, Sports and Tourism said that since the beginning of this year, Thien Duong Cave has attracted more than 10,000 domestic and international visitors.