With the theme "Nha Trang – Khanh Hoa: Civilized and Hospitality", the Nha Trang Sea Festival 2011, will take place from June 11-15 in Nha Trang City. The festival will have one day event for Truong Sa (Spratly) Archipelago.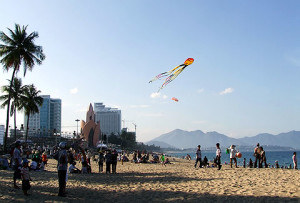 The sea festival will include around 50 events which will run throughout June. The most important parts will be activities to support the International Environmental Day (June 5), the International Ocean Day (June 8) and the "Day for Truong Sa".
The "Day for Truong Sa" is the day for mainland people to show their love to those who are living and working on Truong Sa Archipelago. Various activities will be organized on the day, such as a workshop on Truong Sa, screening films about Truong Sa, photo and painting exhibitions of Truong Sa, art performances, etc.
Khanh Hoa Province's Chair, Le Xuan Than, confirmed that the festival will be a big and interesting event which features the characters of Nha Trang.
The Nha Trang Sea Festival has been held for four times and has become a major tourism event in Nha Trang city.