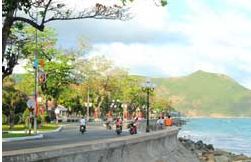 Lauded by The New York Times as "one of Southeast Asia's most untouched and breathtaking getaways", Viet Nam's Con Dao archipelago has begun to welcome a growing number of tourists who wish to experience its pristine natural landscape.

The New York Times recently featured a photo essay of the archipelago in its Travel section which followed a previously published online article about the 16 islands on its website in May.

We took a 45-minute flight to travel the 230km distance from HCM City to Con Dao Airport, located on the archipelago's largest island Con Son, which is commonly called Con Dao Island in the southern province of Ba Ria- Vung Tau.

One of the guy's in our group, who has a fear of flying, quickly recovered after stepping off a Fokker aircraft and taking a deep breath of fresh, ocean air.

Far away from noise, pollution and crowds of the city, the islands offer an escape into the great outdoors – a world of deserted beaches and peaceful seaside towns.

On the way from the airport to our hotel, which offers seaside wooden bungalows, the kind driver told us about some of the must-see spots on the island.

Although many say the best times to travel to Con Dao are February, June and October, we had perfect weather during our five-day vacation in August except for a bit of rain on our second day. However, the shower brought a beautiful surprise along with it: a big bright rainbow. I never knew that a rainbow could bring such joy! We jumped and yelled like children in happiness.

I still remember how relaxed I felt when I sat in a beach chair on my bungalow's balcony, listening to the sound of the waves crash onto the shore and watching black squirrels swing on tree branches overhead.

Don't expect to find a taxi on the island. The only way to get around is to rent a motorbike, which will give you access to every single corner of this little bit of paradise.

We started our journey of discovery on motorbikes hired from the hotel. Bai Nhat Beach, a white sand stretch surrounded by a shark-shaped mountain range, was our first stop. Except for another group of young people who were preparing seafood BBQ the rocks, we had the beach to ourselves. We made friends quickly and were invited to join their feast. All of the seafood was fresh, purchased at the island's only market.

Our seafood extravaganza didn't stop there! We had dinner at a nearby seafood restaurant, which was highly recommended by our taxi driver. We were not disappointed, as it offers an abundant menu featuring local seafood specialities at very reasonable prices. Connoisseurs can have a look at the tanks filled with different kinds of live seafood, some of which I've never seen in my life, to decide what looks good for dinner.

The next day, we visited Dam Trau, another pristine beach, which we were able to access after following a 2km slushy and bumpy path. We were the only human presence in that dramatic landscape, where blue sky and water meet in harmony.

"Maybe the feeling of being in paradise is the exact same feeling we have when lying here on the smooth sand beach," said my friend, Duy Tung.

Our driver also recommended we visit Ong Dung Beach. To get to the beach, you have to drive up a mountain, then leave your motorbike and follow a trail through the jungle. You will be impressed when you see the ocean so close to the jungle. However in my opinion, Ong Dung is not an ideal place for swimming because there are many rough rocks under the water.
If you want to learn more about the wildlife, you can book a "Turtle Tour" at the national park office. You will have to travel to another island for the tour, and you may even get to see a turtle laying eggs. Any trip to Con Dao Island should include a visit to its historical sites. It is infamous for a cruel prison network, which was first run by French colonists. Due to its remoteness, the French used the main island to jail anti-colonial protesters. During the American War, the US-backed Sai Gon regime continued the tradition, sending revolutionaries and activists to the more than 10 prisons on the island.
Nowadays, a visit to any of the prisons, including the oldest Phu Hai Prison, which was built in 1862, most people have a visceral response and actually feel the cruelty of "Hell on Earth". Examples of "tiger cages" and "cow cages", the infamous cells and punishment areas used to incarcerate several leading Vietnamese revolutionaries, are on display.
About 200,000 prisoners were incarcerated in the prisons and 20,000 died in atrocious conditions. The Hang Duong Cemetery holds the remains of the many prisoners who perished here, including heroine Vo Thi Sau. A revolutionary activist, Sau was caught by the French and imprisoned in Con Dao Prison before being sentenced to death in 1952 at the age of 19.
For many years, the only way to get to the island was either by boat from the coastal city of Vung Tau or a flight from HCM City. The first-ever direct flight from Ha Noi to Con Dao recently launched by the new airline Mekong Air, which is expected to contribute significantly to the island's development.
As tourism on the island has yet to fully develop, you can count on your fingers the number of accommodation options for tourists. The opening of the eco-luxury Six Senses resort from the Bangkok-based company next month suggests that Con Dao might soon become part of the international travel scene.
Every year, between 30,000 and 50,000 tourists visit Con Dao Island.
Source: vietnamnet.vn