Following on from the North we left Hanoi and started making our way down the country. We took the train on what is romantically called the reunification railway. This is the line that runs from Hanoi to Saigon (Ho Chi Minh City now). We took the train down to Den Ang, the coastal town about half way down the country. Out final destination – Hoi An.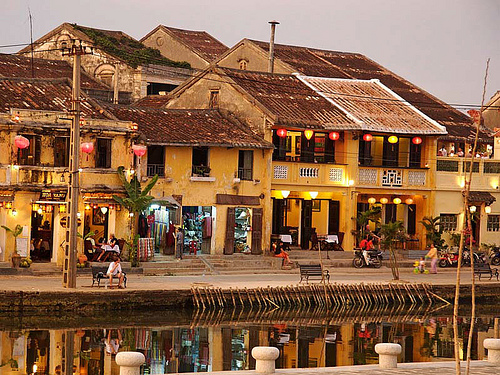 The guide books tell you it's an old and very important trading port, which again is a world heritage site, due the amazingly well preserved French, Portuguese, Dutch and Spanish architecture. I would tell you that this is a most amazing little place that grows and grows on you, until you can't shake it off. The old town is not that huge, but just step inside and you feel like you are on a movie set, the houses and cafes are wonderfully authentic and well preserved and the small streets accommodate foot and bike traffic only, therefore you feel so at ease while wandering the lanes. There is a river winding through the centre of town and 4km away Hoi An has an amazing and huge beach, which is totally pristine and best of all, used mainly by the locals for fun, rather than a few tourists as a sun bed.
At night Hoi An takes on an unearthly charm. the locals light religious pyres outside their shops and the streets are silent, apart from the buzz of people and the creaking of cycles.
I loved the feel of the town and the oldness of it. Of course there is an impact of the tourist trade, and on Hoi An it is that there are so many shops catering of the mainly European tourist market however I don't think this has ruined the town and its atmosphere, in fact the busy cafes and up market eateries actually add to the allure of the town.
The other famous feature of Hoi An, are its tailors shops. The lonely planet is so right when it says travellers arrive to Hoi An looking like back packers, and they live looking like princes! Everyone seems to get something made in the town (often not needed, but hey!). The tailors have a reputation throughout Vietnam and looking at the quality of the finish it is easy to see why! Urvi was really tempted to buy a skirt, and a top and a dress and a……. !!! but in the end controlled her shopping urges and didn't get anything, no doubt she is saving her shopping pennies for India and beyond!
I did come out with a tailored linen shirt, which I love. I have wanted to get a linen shirt for a while and to have it made to measure was really nice. It was pretty cheap too, which added to the experience. Once again we were a bit jealous of people just on vacation in Vietnam, as they could walk out with a while new wardrobe. We on the other hand had to settle for 1 item, or else risk over packing our bags to bursting point! It was nice to be able to get something ultra authentic from the town and I am sure I will remember Hoi An each time I wear my new shirt!!
(http://urvianandworldtrip.blogspot.com)