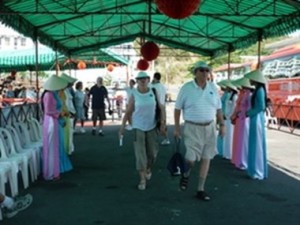 The Diamond Princess cruise ship, carrying 2,500 international tourists from 47 countries and territories, anchored at Nha Trang Bay in the central coastal province of Khanh Hoa on October 14.
This is the fourth time Diamond Princess has visited the city during its round-the-world trips, giving holidaymakers the chance to explore popular tourism sites such as Po Nagar Cham temple tower, Long Son pagoda and the private residence of King Bao Dai as well as tours of traditional handicraft villages and ancient houses and enjoyment of special artistic performances.
Later on the same day, the 288-m long five-star cruise ship left Nha Trang Bay for the southern coastal city of Vung Tau./.