When wandering around Da Lat, the city of mist and pine trees, tourists might experience four seasons in one day: a spring morning, summer afternoon, autumn twilight and winter evening. However, in terms of business, the flower city has only two seasons: peak season and low season.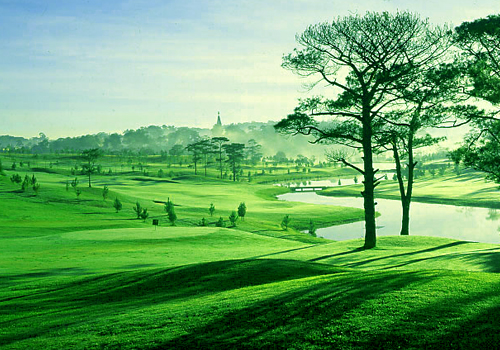 About 300 kilometers from Ho Chi Minh City and 1500 kilometers from Hanoi, Da Lat City, capital of the central highlands province of Lam Dong, exhales its own poetic and romantic charm with its beautiful mountain scenery and delightfully cool mountain weather. Peak season is from January of the lunar year and lasts until summer. During this time there are a number of festivals and tourist services tend to be priced higher.
On the other hand, tourists who visit the flower city in the low season can still enjoy the beautiful landscapes of the small city without spending a lot of money. Hotels in Da Lat and lodging houses nestled in corners of the city are at 'soft' prices.
To experience the romance of valleys, magnificence of waterfalls and art of ancient houses and pagodas visitors can rent a motorbike to ride around the poetic city, or a tandem tourist bicycle.
When heading to Da Lat, tourists should be sure to stop at Prenn Waterfalls, located at the foot of Prenn pass and about 10 km from Da Lat City; a panoramic view of the falls can be enjoyed from the cable car. Alternatively, a visit to the forest and Au Lac Temple nearby can be arranged with a hired carriage or jeep  for four people.
An adventurous and fascinating trip awaits tourists at Datanla Waterfalls, located about 3 kilometers from Prenn falls, on a roller coaster bob sled which runs from the top of the cliffs to the bottom of the falls. The descent is breathtaking and exciting, but guests surely will find the landscape of the falls equally stunning and invigorating, as the falls create a sheet of silver pouring into a pool of water.
Next stop must be Cam Ly Waterfall, which is a well known as a tourist-magnet for domestic visitors and the home of horses and Da Lat's cowboys. Peace and tranquility is found in the nature and poetry of nearby Than Tho Lake (lake of sorrow).
At Mong Mo Hill (dreamlike hill) area, tourists can enjoy a relaxing and pleasant time wandering on this "little" Great Wall, listening to the sounds of water from the artificial waterfall and sensing the soul of the upland region at a cong chieng (gongs) performance of the local ethnic minority artists every weekend.
The most impressive venue may be Hang Cop (the cave of the tiger) Waterfall, so called because at the foot of the waterfall there is a large cave where a fierce tiger was trapped by people. On the descent to the bottom of the fall on old stone paths, adventurers will see abundant, violent waterfalls breaking off into small streams and falling over huge rocks. It is really a scene of the most attractive and majestic wild landscape.
Da Lat owns many attractive landscapes from waterfalls to ancient pagodas and houses influenced by French architecture and Vietnamese charms. A two week holiday here will pass quickly exploring these and other sights.
Last but not least, Langbian Mountain is an absolute must for anyone wanting to conquer a peak of over 2,000 meter high, with endless views of green mountains reflecting the silver rays of the sun.