So many beaches in Asia, so little time, so we've picked out our faves for their seclusion, watersport action and local flavor
By CNNGo Staff
Life's a beach, and in Asia there's a whole lot of good living to be had. We've researched and uncovered the top beach destinations to be found in the region. We've even broken them down into three categories — secluded beaches, action beaches and local flavor — so all you need to do is decide exactly how much coastal paradise you can handle.
For seclusion
Yunokawa, Hakodate, Japan
Yunokawa may be known as an onsen (hot spring) district but there are lovely, largely deserted beaches all around town.
The true charms of the coastal city don't show themselves until the winter months. The area is scattered with onsens directly facing out to the shore and we can think of few things better than bathing in a hot spring while looking out at a beach covered with snow. Yunokawa is largely ignored by both foreign and domestic tourists during winter, as most Hokkaido vacationeers opt for Sapporo for skiing, so shops close early, which adds to the town's sedate ambience.
Bai Dai Beach, Phu Quoc Island, Vietnam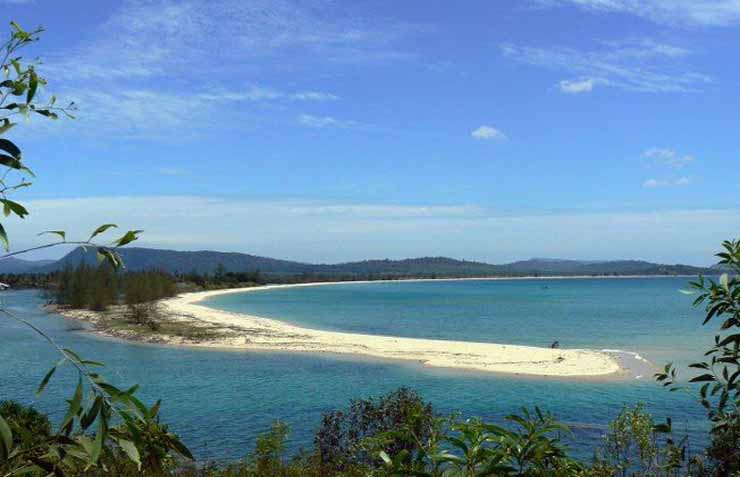 Phu Quoc is being fashioned as the 'next Phuket' and will soon be turning in a pretty profit for the Vietnamese government and resort operators. But if unsoiled charms are what you're after, there's still time for you to check out the island and find out why the government finds it bankable in the first place (the international airport won't open until next year).
Phu Quoc is frequently touted one of Vietnam's most beautiful islands and the Bai Dai Beach, which squats in a Viet military area, is blissfully secluded with white sands and expansive vistas stretching to the horizon.
Patnem Beach, Goa, India
Most tourists know Goa for its Anjuna beach, hippie heaven of the 1960s and now tourist magnet. If the cacophony of flea markets and tourist raves are not your thing, head down to the lesser-known shores of Patnem, which is a stone's throw away from the increasingly crowded Palolem beach.
Patnem may be smaller than its famous neighbor but it's also less claustrophobic, with cheaper beach hut accommodation. It's the perfect place to kick back and enjoy the sunset while congratulating yourself on ducking the Goan tourist radar.
Tanjung Rhu, Langkawi, Malaysia
The island cluster of Langkawi is spearheading Malaysia's bid to become the next major resort destination in Southeast Asia, and while on the main isle (also called Lankawi) most tourists flock to Pantai Cenang beach, we like the quieter Tanjung Rhu for its earthy beauty and serene atmosphere.
The two-mile Tanjung Rhu beach area is surrounded by ancient limestone caves, rippling waterways and dense mangroves. The newly opened Four Seasons resort offers boat tours around the mangrove forests led by naturalists.
Havelock Island, Andaman Islands, India
The idyllic Havelock Island may be the most visited stop on the Andaman Islands circuit, but visitor numbers there are tiny compared to the throngs at other equally charming locations in Thailand.
At the low-key Havelock Island, visitors get to taste what rustic island life is all about. The buses that operate on the island look like they're just about to fall apart, and locals, while friendly, have a charmingly disaffected demeanor. Those seeking corporate comforts will not find it here as Havelock is free of chain resorts.
Ta Pho Beach, Koh Kood, Thailand
Thailand's Koh Kood is possibly one of the very few places that can live up to the myth of the unpeopled Asian beachy paradise. It's got the prerequisites — a rainforest, quaint fishing villages, coconut plantations, snorkeling spots, and a population of less than 2,000.
One of the star attractions is the immaculate Ta Pho Beach, a wide swathe of sugary-white sand fringed with coconut trees.
Pulau Derawan, Indonesia
Tourists seeking to escape corporate comforts can't go wrong with the Indonesian island of Pulau Derawan. Tourist accommodation is no-frills, and locals are unassuming and chatty. The luckier visitors will be able to spot turtles wading about on the island's spotless silvery beaches.
The waters surrounding Derawan are known to be a top-notch spot for splashing around with mantra rays and green turtles.
For action
Phra Nang Beach, Railay, Thailand
With Daliesque limestone structures, hundreds of challenging cliff-side climbing routes and Tiffany-blue waters, the peninsular of Railay is the seasoned rock climber's dream. Phra Nang, the area's fine-grained main beach, offers a sweeping view of the area's rugged beauty and is flanked by stalactite-rimmed cliffs that tourists can jump from.
Although Railay is only accessible by long-tail boat from Krabi and Ao Nang, it can get crowded during tourist peak seasons.
Sipadan, Malaysia
For divers, it doesn't get much better than the beach-rimmed Sipadan. It's been voted the best dive site in Asia with good reason — Sipadan is blanketed with lush corals and supports an extraordinarily healthy marine ecosystem, including robust reef shark and green turtle populations.
More divers won't pass up on the opportunity to visit Barracuda Point to experience what it's like to have thousands of barracuda milling around them. To conserve the area, only 120 diver permits are issued at Sipadan every day.
Hikkaduwa, Sri Lanka
With its political woes apparently easing, Sri Lanka's efforts to become known as a tourism hotspot rather than a terrorism hotbed are no doubt aided by its world-class surf spots.
Surf Mecca Hikkaduwa, one of Sri Lanka's most popular beach destinations, has close to a dozen reef breaks that stop short of being life-threatening, and plenty of sea corals to keep snorkelers happy.
To complete the Asian getaway experience, Hikkaduwa has sumptuously spicy local fare and Buddhist cultural spectacles for vacationers to write home about.
Gaya Island, Borneo, Malaysia
Travelers will have a hard time resisting the Gayana Eco Resort, even if they're not enviro-warriors. The luxury resort, which is erected above water on stilts, has a 130-million-year-old prehistoric rainforest for a neighbor. The resort provides guides for jungle-trekking — if you're lucky you might even spot the Megapode, a native bird that looks like a chicken but meows like a cat.
For those looking for underwater action, Gaya Island is an excellent dive spot for its corals, warm waters and exotic fish.
Mui Ne Beach, Vietnam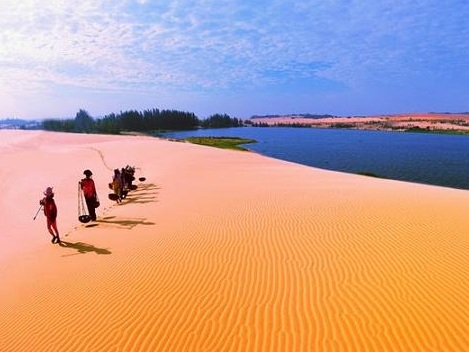 Thrill-seekers will not want to miss out on Mui Ne, Vietnam's de facto adrenalin capital. It's famous for kite-surfing for its strong winds and clear skies, and is also generally considered a prime surfing and wind-surfing spot.
Mui Ne has looks, too — parts of the beach consist of massive sand dunes, like a section of the desert crazily juxtaposed next to the sea.
Bacuit Archipelago, Philippines
The Bacuit archipelago, which comprises of over 45 islets, is recognized as one of the Philippines' crowning geological wonders for its sheer karst cliffs and sensational limestone rock formations. The whitewashed shores in the region — notably the excellent beaches at Cadlao Island — are also great places to get your adrenalin fix, be it snorkeling, kayaking, trekking, cliff-climbing or diving.
For local flavor
Akajima, Okinawa, Japan
The islet of Akajima of Okinawa's Kerama Islands may be popular among Japanese day-trippers during the summer, but foreign travelers are a rare sight there.
Indeed, Akajima retains a blissfully sequestered charm even during peak season. The beaches are spotless, usually with just a handful of Japanese surfers, and locals are effusive and friendly. Further inland there is a quaint Ryukyuan heritage house open to visitors. If you're lucky you may even befriend a local and have him teach you the shamisen while you sip on cold beer.
Beidaihe, China
Hainan Island may be China's beach getaway de jour, but it's Beidaihe up north that's been amusing China's upper echelons for decades.
Beidaihe is a few hours from Beijing and offers a fascinating alternative view of China's bygone political intrigue. Rulers such as Mao Zedong and Deng Xiaoping hashed out national policies in their private villas here, and it's popular among Russian tourists — an offhand reminder of erstwhile Sino-Soviet ties.
Cloaks and daggers aside, Beidaihe's restaurants offer simpler pleasures with good seafood and ice-cold beer.
Om Beach, Gorkana, India
There's more to Om Beach at the coastal town of Gorkana than sand and sea. Gorkana, which is the site of one of India's most sacred Shiva shrines, is a major stop on the Hindu pilgrimage circuit and Om Beach offers a fascinating glimpse into Hindu religious life.
The craggy bay is named for resembling the Hindu symbol for oneness and peace, and is backed by coconut palms and verdant hills. Downtown Gorkana is rich with old-world charm, with bare-chested Brahmin priests wandering about, and chillum-smoking masses.
Haad Rin Beach, Ko Pha Ngan, Thailand
Haad Rin beach's infamous full moon parties are a once-in-a-lifetime experience. Every full moon evening, tens of thousands of (predominately Aussie) travelers flock to the island for drunken, drug-fueled revelry. Lining up for toilets and drinks can get annoying, and there's a lot of shoving and swearing going on, but for many party fiends, the buckets of cheap alcohol, the great food and the maddening crowd makes it all worth it.
Iho Beach, Jeju Island, South Korea
With its Hawaii-like aesthetic, Jeju has long been a favorite among Korean domestic travelers and honeymooners, and a standout in the region is Iho Beach, famous for its mixture of yellow and grey sand. The beach is shallow and good for a swim, and when you've dried off, we recommend heading off to downtown Jeju-si to people-watch at the raucous student bars.
The old favorites
White Beach, Boracay, Philippines
Boracay may be a pimped-out tourist central but there's a reason why it remains a superlative on travel rankings.
Tourism and development have crept up on the tiny island but it still lays a respectable claim to its "tropical paradise" name. Boracay has something for everyone, from powdery beaches to water sports and spas. And while the famous White Beach is lined with luxury resorts and kitschy souvenir shacks, watching the sun go down over the water still rates as a very special moment for many.
Soneva Gili, Maldives
Nearly all the beaches in the Maldives are faultless, but in terms of beach-side luxury, the staggeringly expensive Soneva Gili resort reigns supreme. Each over-water villa is equipped with little indulgences that you didn't know you needed — room service by speedboat and outdoor bathrooms, for instance — and private butlers will drop you off at deserted private beaches complete with hammocks and picnics on request.