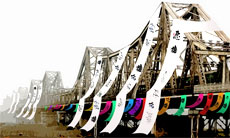 The Long Bien Bridge Festival opens on November 20 with more events and performers than ever, according to festival founder and organiser Nguyen Nga. Nga, an overseas Vietnamese living in France , is busy completing final preparations for the festival, to be entitled Dragon Bridge.
The festival will be closed to motor vehicle traffic and will become an outdoor art gallery, featuring an exhibition of contemporary arts, including paintings by disabled children and children affected by Agent Orange, as well as woodblock art and a collection of kites by artisans from Hanoi and the northern province of Hai Duong.
The festival will also feature an exhibition of photographs, documents and other artefacts depicting national defence over the past 10 centuries. Throughout the length of the 1,682m bridge, it will be divided into ten sections representing the 10 centuries (1010-2010) of Hanoi , each section brought to life by diverse art forms, antiquities and costumes, representing the lifestyles of the people of the time.
" Long Bien Bridge is alive," said Nga. "It's not only in the memory of Hanoians, but it is also the bridge of the resistance, the bridge of pains and sufferings, the bridge of happiness, the bridge of loves, and the bridge of peace and freedom.
"It's the flesh and the blood of the Hanoians, an umbilical cord between past and present, between Hanoi , the country, and the world."
For the festival, the bridge will be divided into three areas. The eastbound side of the bridge (the northern span) will become the Bridge of Memories and will symbolise people of courage. The eastbound side (the southern span) will be decorated with the flags of 70 countries and territories and animated by street performers. Symbolising peace and friendship, this side will be called "The Bridge of Dreams".
The highlight of the festival will be a concert and light show on the bridge on November 21, to be broadcast live on television. Two musical pieces composed by French musicians as gifts for the Long Bien Festival – On the Long Bien Bridge and See Hanoi – will be presented by artists from Vietnam National Academy of Music and the Flonflons troupe from France and Belgium.
The festival's general director, People's Artist Le Hung, said, "The designer of Long Bien Bridge is also the designer of the Eiffel Tower , which is a world-famous tourist attraction, so why we can't turn Long Bien Bridge into a bridge for tourism? The festival was initiated with that goal in mind, so I agreed to be the general director of the event."
During the event, the organising board will also raise funds for flood victims in the central region.
(Collected by Vietnamhotels.net)