The southern coastal province of Bà Rịa-Vũng Tàu will host the World Food Festival 2010 from July 21-25.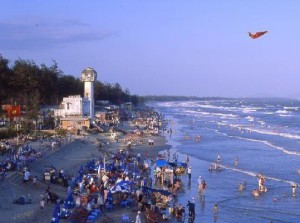 A 3km-long party will be arranged along the beautiful beaches of Thùy Vân and Bãi Sau in Vũng Tàu City, representatives of the Organizing Board revealed at a press briefing held in Hà Nội on March 11.
The festival will also include markets on specialties and dishes from all 63 provinces and cities in Việt Nam and more than 80 nations in the world, they added.
With five main facets – gastronomy, culture, festivities, shopping and relaxing- the event is expected to provide visitors with opportunities to enjoy traditional dishes and beverages, explore different cultures, shop and take part in a colorful parade with thousands of other people from different countries as well as areas in Việt Nam.
During the festival, cooking demonstrations will be held on the beaches.
The Organizing Board hopes the festival will become an annual traditional event in Vũng Tàu Province and will be recognized as a Guinness world record in terms of the largest space for a gastronomy festival.
Source: VGP News