By Kinh Luan in HCMC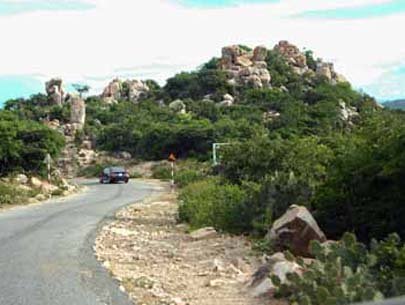 The adventurous route to Mui Ne along Nui Chua National Park in Ninh Thuan Province
Beach lovers, who want to go to Mui Ne in Phan Thiet City, might not fancy being cramped in a bus from five to seven hours in horrendous traffic.
So it's time to choose the coastal route with the trip along Long Hai-Ho Tram-Nui Chua-Lagi a must for this idyllic destination.
From Vung Tau T-junction on National Highway 1A, about 25 kilometers from HCMC, travelers will head on National Road 51 to Ba Ria Town.
From there, you face two roads, one heading to Long Hai Town and the famous Anoasis Beach Resort and Long Hai Beach Resort and Spa and the other head to Ho Tram Beach and Loc An Tourist Area. The second option will see you facing a 250 kilometer detour a whole lot longer than the normal 50 kilometer journey, but it is worth it due to the enchanting landscapes you will see on the way.
You will pass the luxurious Ho Tram Beach Resort and Spa and Loc An Ecological Tourist Area. Located along the coastal road of Ba Ria-Vung Tau Province, Ho Tram Resort is the ideal get-away from the hustle and bustle of HCMC, showcasing authentic Vietnamese architecture, set against a backdrop of blue seas, clear skies and rich garden landscapes.
The journey gets even more exciting when it runs through Chua Mountain in Ninh Thuan Province. The mountain, covering about 30,000 hectares, is famous for its biodiversity and a popular destination for nature lovers and adventure enthusiasts alike.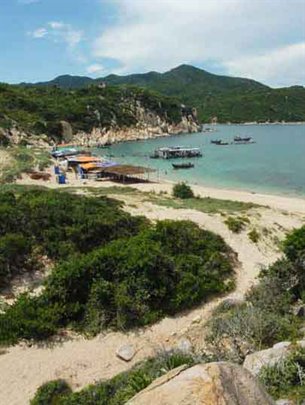 A view of the splendid Ba Dien Beach in Vinh Hy Bay Photos: Kinh Luan
Leaving Chua Mountain, you should stop by at Vinh Hy Bay nestled between two popular tourist destinations of Nha Trang City in the north and Phan Thiet-Mui Ne in the south. The bay attracts a lot of tourists but it still reserves its rural beauty with white sand beach, steep rocky mountain ranges, caves and spectacular waterfalls.
At the bay, visitors can take a boat tour on the beautiful sea, visit the forests and mountains of Nui Chua National Park, the salt production fields, or even go diving in the spectacular coral reefs and bathe in springs.
Coming to Vinh Hy Bay, tourists must stop by Ba Dien Beach, the most stunning beach in the bay.
After the wonders of life on the road, tourists will finally arrive in Mui Ne thinking that their adventure is now over, but of course it is just beginning.