by Ha Nguyen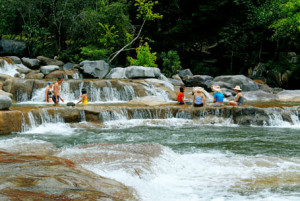 Tranquil: Local and foreign travellers enjoy the cool waters at the Yang Khang Waterfall. — VNS File Photos
Yang Bay in the central province of Khanh Hoa is famed for its pristine beauty, expansive forests, and glassy waterfalls – in fact the superlatives go on and on.
Duong Le Na, an overseas Vietnamese from the US and her friends recently decided to travel to the site. When they arrived at Yang Bay she was beside herself with joy.
"On the stone steps of the gentle slope we started our journey to Yang Bay waterfall. The fresh air the cool water, I'm in ecstasy," she wrote in an e-mail to a friend.
"The quite beatitude is broken by the roaring of the waterfall. The waterfall feeds into several small lakes below, of which the deepest is 16m. My friends and I immediately drived into the water to enjoy the coolness. We are all in agreement that this is the most beautiful place on earth," Na wrote.
Yang Bay means "heaven's waterfall" in the language of the Gia Rai people, one of the 53 ethnic groups in Viet Nam.
The river begins at a spring some 2km higher up in the mountains. It plunges down several waterfalls into a one-metre deep crystal clear pool.The two other major waterfalls in the area are Yang Khang and Hocho. After a refreshing dip, visitors can relax in a natural hot spring.
Yang Bay waterfall is also famed for the "lithophone" that has been erected – iron wires fastened to the cliff that play as the water passes over it.
Gia Rai residents are proud of their musical ability and are only too happy to entertain visitors. They play traditional instruments such as the chapi, t'rung, tacung flute, taleploi clarinet and the dan da (stone instrument).
Situated in Khanh Vinh District's Khanh Phu Commune, Yang Bay waterfall forms part of the 57ha Yang Bay Tourism Park.
Locals put on a variety of activities to entertain tourists, such as pig racing and crossbow shooting. There is also a 4,500sq. m bear farm. Visitors can also feed crocodiles.
Na's friend Ken Jones was particularly taken by the crocodile farm. "Feeding the crocodiles was fun but terrifying," he said.
Na meanwhile fell in love with the orchid gardens.
"I have lived far from my homeland for more than 30 years. I can't believe how beautiful and pristine this place is," she said.
After the orchid gardens Na and her friends listened to locals playing the dan da and t'rung, which consists of five to seven pieces of bamboo of varying length that are tied together with two parallel cords. It can be rolled up. When played it is hung from a metal frame. The musician strikes the bamboo with two to four rods. The sound of the t'rung is reminiscent of running water.
"At the end of the evening, we relaxed by a campfire and sampled local culinary delicacies such as grilled crocodile and steamed bamboo filled with minced pork. Ostrich is another popular local dish," said Na.
To get to Yang Bay from Nha Trang City you must pass through Dien Khanh town and several villages.
Yang Bay reserve occupies 570ha and is famed for its virgin forest. It is known as Gia Rai in the local language.
Entrance tickets cost VND30,000 for adults and VND15,000 for children. English speaking tour guides cost VND100,000 per hour, while Vietnamese language guided cost VND50,000 per hour, said tourism official Hoang Van Khanh, who works for Khotoco Co.
The 800m tree-lined path to the centre is a festooned with flowers and creepers. The foot weary can catch an electric bus for VND10,000.
For those wanting to take a dip in Yang Khang Waterfall, swimming costumes can be hired for VND60,000 to 70,000. Floats cost VND5,000.
Just under a kilometre away is the Hocho Waterfall.
Yang Bay welcomes thousands of visitors each year.
"We plan to invest billions of dong in Yang Bay. We want to build a mud bath and a high-end resort," Khanh said with a smile surveying the beautiful countryside. "Then more people will be able to enjoy the nature and the loveliness of the reserve. — VNS