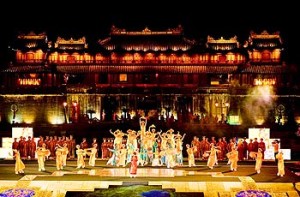 Am Sac Viet (Vietnamese Timbre) – a program that brings three musical styles from the North, the Central and the South of Vietnam –  is attracting thousands of people in the Hue festival.
Am Sac Viet is a combination of ca tru (choral chamber music) from the north, ca Hue (Hue singing) and cai luong (renovated opera) from the south.
Three troupes, one from each region, got together for their first one-hour performance inside Dien Tho palace on Sunday night.
The four-member Thai Ha group from Ha Noi, Hue-based Phu Xuan with seven artists and two artists from Bach Tuyet and Thanh Hai from HCM City each performed a 20-minute item.
"I love the atmosphere of this music which feels like a trip back in history to the time of the mandarin or the court of the Vietnamese kings, when there was nothing electronic, only music, architecture and simple things," French tourist Alain Thomas said. "It is extremely emotional music and has a very unique timbre."
The audience was welcomed through the three entrances of the wooden palace by young women in ao dai (traditional long dress of Viet Nam) and were shown to their seats on embroidered pillows around a slightly raised stage.
In front of each pillow was a porcelain flowered tray on which sat a pottery tea set, a small pottery plate plus a white or pink lotus flower.
The show's director said three sweet bean candies and three sugar-coated lotus seeds were laid out for audience members to allow the fine fragrance of the lotus flower to circulate during the performance.
"I have no idea about the programme but its name absorbed me," said a Viet kieu (an overseas Vietnamese), home from the US for one month.
"As a Viet kieu living far from Viet Nam for such a long time, I am very interested in this music," the middle-aged woman said. "I know it is something very original."
Seventy-year-old Nguyen Van Mui, the leader of the Thai Ha troupe, said the combination in such solemn surroundings helps the audiences better understand the typical features of each style of music.
"I am happy to see not only middle-aged and old people, but also young people show respect for traditional music."
Sitting silently from the beginning to the end of the show, 19-year-old Nguyen Le Minh, a student from the Hue, was one of the youngest members of the audience.
Minh had only come inside Dien Tho to shelter from the rain, but then decided to stay.
"But it is not easy to enjoy the three typical kinds of music at the same time and in a such a serious atmosphere."
Am Sac Viet programme is performed every night at Dien Tho Palace throughout the Hue Festival.
Collected by Vietnamtravelblog.com