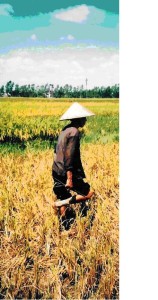 Tourism and hospitality experts have identified Vietnam as one of the key growth markets in Asia given its healthy expansion of the econo­my, population and the number of internet and mobile phone users.
"It's not all China and India… I would say Vietnam is another remark­able growth story," Abacus International President and CEO Robert Bailey said in his opening speech in front of around 450 representa­tives of the industry at the opening of the 7th Abacus International Conference in HCMC.
At the international travel and hospitality event, Bailey placed Viet­nam after China and India, which he said were the powerhouses of Asia and the key drivers for the regional travel industry because of their economic growth and population.
"Vietnam is taking off," Patrick Basset, Accor vice president of opera­tions for Vietnam, the Philippines, Japan and South Korea, told the Daily on the sidelines of the event before he joined a panel discus­sion on opportunities in Indochina on Thursday afternoon.
At the session, Basset and other panellists Hawkins Pham of Indo­china Land and Le Quang Nghia of PTG Co. and BCD Travel agreed Vietnam was emerging as a destination of choice for travellers thanks to its beautiful beaches, more standard Vietnam hotels and resorts going up and simplified procedures for visitors.
Bailey said like the trend in China and India, Vietnam was experienc­ing a bourgeoning middle class with huge spending on travel and services, as well as a fast increase in the number of internet users.
"The internet is taking off here," Bailey said, adding that the number of internet users in this country is forecast to reach 40 million by 2015. Vietnam also has a surprising number of mobile phone subscriptions and penetration.
The country is also investing heavily in airports in an effort to attract more international carriers and visitors.
Bailey said there would be 26 new airports by 2020 with combined investment capital of some US$13.2 billion. The pickup in passen­ger traffic and the growing economy will continue to create a strong source of travel expenditure for Vietnam.
"Tourism expenditure by 2014 is expected to be around US$8.2 bil­lion (in Vietnam)," Bailey said.
Basset of Accor said in support of Bailey that more new airports would attract more planes and that Vietnam started behind Thailand and Malaysia in terms of tourism but the country had more phenom­enal potential for future growth.
Basset said Vietnam would be able to attract around five million in­ternational visitors this year, from nearly 3.8 million last year. "The number of corporate travellers is increasing more and more as we see more global companies coming to open factories and find the opportunities for them."
Basset said the increase in international travelers in Vietnam was based mostly on corporate and leisure segments, which account for about 80% of foreign visitors to Vietnam, and the rest are in this coun­try for personal reasons.