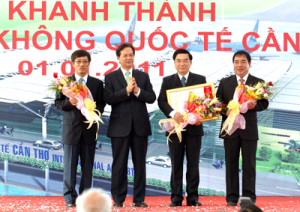 After two years of construction, a new international airport opened in the Mekong Delta province of Can Tho Saturday.
The Can Tho International Airport, which cost VND3 trillion (US$153 million), was built on an area of 20,750 square meters with state-of-the-art facilities, the government said in a report on its website.
Speaking at the inauguration ceremony, Prime Minister Nguyen Tan Dung said the new airport brings a great integration opportunity to Can Tho City and the Mekong Delta, linking it to other regions across the country and the world.
He also urged authorities to speed up the development of other infrastructure projects and solve transport problems that have hindered the trading of goods in the Mekong Delta.
Construction of the airport started in September 2005 and its first phase was completed in January 2009. The airport received 211,000 passengers in 2010, up 39 percent from the previous year.
The other three international airports of Vietnam are in Hanoi, Ho Chi Minh City and Danang.