If Linton Borthwick gets his wish, on your next visit to Vietnam, you'll be unlocking your room door via mobile phone, signing an iPad for dinner, and expending but a single sheet of paper for an entire week's stay.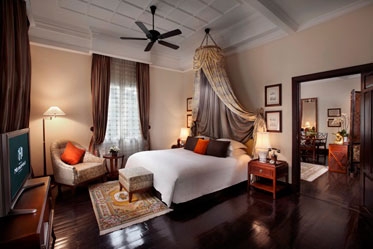 In June of 2011, the Caravelle Hotel Saigon in downtown Ho Chi Minh City joined a handful of leading hotels worldwide that have converted from magnetized room keys to advanced RFID (radio frequency identification) technology. The new keys only need to be in the proximity of the door to unlock it.Considering that Borthwick has already gotten several of his other recent wishes, that scenario may be just around the corner.
Making service more convenient, efficient and personal is an overplayed mantra in the hospitality industry. Yet a surprising trend is emerging in far-flung Vietnam, where iconic heritage properties are striding to the front of the lineup by offering guests the most innovative high-tech gadgets and software on the market.
The 52-year-old Caravelle Hotel, best known for its role as a journalist haven during the Vietnam War, followed its room key upgrade by installing GPS tracking in all its Mercedes vehicles, enabling perfectly-timed welcome rollouts for VIPs.
Borthwick's real pet project, a remote check-in service that allows arriving guests to bypass the front desk altogether, only made its debut this month. Two Wii-pads, remote handheld tablets, enable check-ins to take place anywhere on the property. At present, the Caravelle is conducting its mobile check-in from the seating area of the lobby, but the hotel expects to extend this option to other areas: the rooftop bar, in the elevator, even by the pool.
What's cutting edge on Wall Street, where a hotel was just hailed by one of the leading travel magazines in the world, is also making a mark on Dong Khoi Street.
While the Caravelle presses forward in bustling Ho Chi Minh City, in the cool capital city of Hanoi, the Sofitel Legend Metropole Hanoi, the undisputed grand dame of Vietnamese hospitality, is undergoing a digital makeover.
In contrast to the old-world ambience and elegant, French-inspired decor, an array of slick, modern devices have found their way into every corner of the historic hotel. Suites come with state-of-the-art Beosound 8 docking sound systems, plus the use of a personal iPad, just in case you opted not to pack your laptop.
Meanwhile, guests on the hunt for tour information at the concierge desk are offered iPads for online searches, as diners in the Italian restaurant, Angelina, peruse the wine list on another of the trendy e-tablets. Free WiFi will debut in all the Metropole's rooms by October.
Behind the scenes, the hotel is swapping breakthrough industry software with its current guest request tracking system, concierge databases and front office operations.
Of these, the popular Go Concierge program is set to do away with a host of guest frustrations. Soon the concierge on duty will respond to requests for ticket reservations or restaurant recommendations by printing information from a pre-loaded database. Ideally, guests could have confirmation letters, itineraries and even directions in their hands within minutes.
"The biggest changes we're making are invisible, most of our guests will probably never be aware of them," says Kai Speth, general manager of the 110-year-old property. "What they will experience are shorter wait times, and smoother, more efficient service when putting up at the Metropole Hotel."
For one heritage property however, acquiring the newest technology has more to do with ensuring peace of mind than with ironing the seams out of service.
Gliding serenely through dramatic limestone karsts and turquoise waters, Emeraude Classic Cruises on Halong Bay entices guests with a vessel designed to evoke a lost age of glamour and discovery, drifting in one of the most stunning natural settings in the world.
For Jacques Le Fur, the French captain of the Emeraude, there is no pageantry to shelling out for gadgets and instruments like Fingerprinted Clock-In/Clock-Out, 3D radar and advanced GPS tracking. Though not required by Vietnamese regulations, these tools could one day spell a critical difference for the Emeraude and its passengers.
Finely-tuned GPS tracking automatically sounds an alarm any time the anchor drifts, or the vessel lists to an unusual degree. Le Fur is able to ascertain that engineers and sailors complete hourly rounds by examining the clock-in fingerprint log the Emeraude obtained from a manufacturer in Taiwan.
By bucking the obstacles to transplant modern technology into the country, these hotels are sending out a digital sign that when it comes to innovation, Vietnam is keen to perform on par with the best in the industry.
(Source: ftnnews.com)