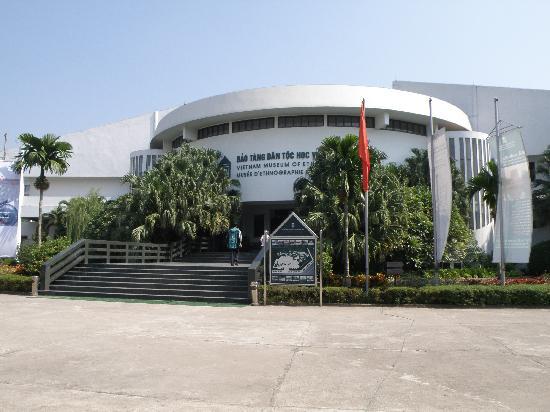 Many foreigners make the mistake of thinking about Vietnam as a homogenous nation, comprised of a single race of people.
In fact, it is home to a variegated tapestry of cultures—54 ethnic minorities live within its borders.
These tribal communities are scattered throughout the country and some are isolated by rugged terrain.
Those looking to get a rudimentary grasp on these various cultures should head to the Museum of Ethnology on Nguyen Van Huyen Street in Hanoi.
On May 18, in celebration of International Museum Day, the institution will give away gifts to the first 100 visitors. Special tours have been organized on the day as well as a series of reports on the institution's cultural preservation efforts
A foreign favorite
Director Vo Quang Trong said the museum sees about half a million visitors, every year. Lately, he said, it's getting a bit crowded.
More than thirty foreigners have posted comments on www.travel.yahoo.com and www.tripadvisor.com calling the museum an excellent first stop in Vietnam.
"The museum really gives you great insight into [Vietnam's] 54 ethnic groups […] and a sense of the country you're in," wrote Nadja Ring and Kevin Madigan on the yahoo website.
French President Jaques Chirac inaugurated the building during his visit in 1997.
Since then, the museum has continued to showcase exhibits created by local and foreign photographers and ethnologists.
The façade was designed by the Tay architect Ha Duc Linh and modeled after an ancient Dong Son Drum. The interior was designed by the French architect Véronique Dollfus.
Fourteen years later, the museum serves as a center for the exhibition, preservation and research of these groups' cultural legacies in Vietnam.
Today the museum's collection includes 30,000 artifacts, 2,190 slides, 42,000 photographs, 237 audiotapes, 373 videotapes and 25 audio and video CDs.
The exhibits also include interactive video displays that chronicle the process of making non la (palm-leaf conical hats), the funeral rights of the Muong people and a Bahnar buffalo-slaughtering ceremony.
The director said that 30,000 artifacts collected in Vietnam and abroad are not divided equally among the ethnics due to difficulties in studying and collecting subjects especially in underdeveloped and shrinking ethnic groups.
Green museum
A sizeable portion of the Vietnam Museum of Ethnology is situated in a well-manicured outdoor space.
During regular visiting hours, ethnic artisans hold craft demonstrations as well as traditional food preparations.
Children have the chance to watch water puppet shows, enjoy to he (edible toy figurines), and participate in traditional games.
The museum's "living" displays are probably the largest of their kind and cover an area of roughly 3.3 hectares.
Most of these exhibits are located in the meticulously-landscaped garden. So far, these exhibits are divided into ten plots, some of which house up to seven life-sized traditional structures.
Trong laments that only ten ethnic groups are represented in this outdoor space.
Last year, the 830-hectare Vietnam Ethnic Culture and Tourism Village opened 37 kilometers west of Hanoi. Trong claims that the village does not adequately represent any ethnic groups since the organizers invited some private companies to built tourist attractions – mostly out of concrete.
Trong said his museum invited members of each ethnic community to build traditional structures for visitors to see and enter. These builders periodically return to maintain the structures.
The model structures include a Dao home, a Tay stilt home and a long stilt-home (45m) associated with the matriarchal Ede.
The latest additions to the display garden include traditional Ha Nhi homes of the Bahnar and Cham people.
The structures are presented alongside information about the tools and techniques used as well as information about the builders themselves.
"Few museums have such an outstanding green space," said Doan Thanh, a Vietnamese-German painter, who held an exhibition at the museum in 2008. "As a result, it provides an ideal place to study Vietnam's various cultures as well as providing a space for picnicking, taking wedding photos, and allowing children to play."
Some of the capital's urban residents consider it a place to go back in time.
Nguyen Dang Tuan Minh often heads to the museum on his bicycle. Once there, he enjoys the cool breezes and open space.
"Whenever I think of my late grandmother and my hometown in the province, I spend time in the museum garden and visit the model northern home," said Minh. "It brings back memories of my childhood."
Address: Nguyen Van Huyen Street, Cau Giay District, Hanoi (about 8km from downtown)
Open from 8:30 a.m. – 5:30 p.m. Tuesday through Sunday. Tours take at least three hours.
Ticket: VND25,000 (US$1.25)
Reported by Minh Ngoc – Priscilla Aquilla – Thanh nien news