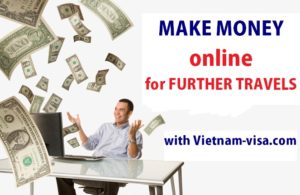 So, you dream of making money online from the comfort of your home, or on the way of your travel to support your travel as well? What do you think you need to do? Don't overthink. Don't think it as something big falling beyond your reach.
If you have a website, a blog, social account with a lot of followers or a popular page having something concerning travel around the world, especially South East Asia and more particularly Vietnam, you can completely realize your dream with Vietnam-visa.com which operates as a local travel agent in Vietnam offering Vietnam visa online service. Just become their affiliates and see how big you will get.
How much you can earn?
Vietnam-visa.com offers attractive commission rates of up to 30% to their affiliate on basis of accumulating orders generated from their source. No target is imposed on them, but the more orders referred from their page, the more money they will get.
How to become an affiliate with Vietnam-visa.com?
The way to become their affiliate is also as easy as the way to make money with them.
The whole process is summary in 2 simple steps as follows:
Step 1: Sign up for an account with Vietnam-visa.com:
Just online at https://booking.vietnam-visa.com/affiliate-program.html and complete the form there. After submitting, you will receive an e-mail message with links, text banner or booking widgets that you can immediately place on your site.
Step 2: Place their links/ banners/ widgets on your site or Register your domain in their system
That's all what you need to become affiliate of Vietnam-visa.com to start earning money from them.
For more information, you may refer to https://booking.vietnam-visa.com/affiliate-program.html.
About Vietnam-visa.com:
https://www.vietnam-visa.com/ is a popular address among travelers to Vietnam whenever their issue come from Vietnam visa. They treasures over 10 years assisting travelers to obtain a visa on arrival to Vietnam. Spending a lot of efforts to assist travelers, Vietnam-visa.com has received a lot of positive feedback from their clients. In case your issue also comes from visa to Vietnam, don't hesitate to contact them. Highly recommended.