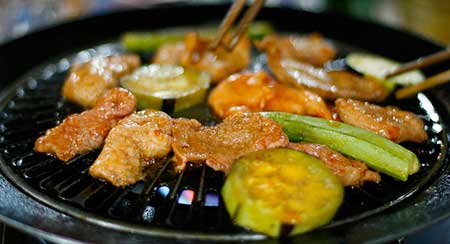 Grilled Cu Chi beef is among the delicacies of Ho Chi Minh City
Saigon's famed picnic destination has been through a lot, but it's still the best place for barbecued beef Cu Chi was once known as the ideal picnic spot for Ho Chi Minh City office workers. Rich fruit orchards and fecund farms offered a wonderful gastronomical day trip for stressed out city folk.
During the war, the people of Cu Chi were harried by one of the most vicious campaigns of the entire war.
The Americans never could beat the tunnel-dwelling freedom fighters. But they did ruin Cu Chi as a dining destination, for a time.
Today, it's back.
Families looking to survive after the victory invested in cattle and it has paid off, big time.
Now Cu Chi is the city's prime source for cheap and tasty veal and beef.
Barbeque joints, catering to HCMC tourists now dot the district. Places like Bo To (young beef) Xuan Dao Restaurant serve the following local delicacies:
Boiled beef
Though it may sound bland, boiled beef makes for an ideal appetizer at the Xuan Dao. This isn't your English grandmother's boiled meat. This one is cooked in pure flavor.
Consider a trip to the following restaurants:

Bo To Xuan Dao
Nguyen Giao Street, Highway 22, Cu Chi Town, Cu Chi District

Bo To Cu Chi
38B Dinh Tien Hoang Street, District 1

Bay Quyt
9B Le Quy Don Street, Phu Nhuan District
Makers of the dish start by creating a base broth flavored with boiled bones, black cardamom, ginger and onion.
The bubbling liquid is served with tender beef slices and diners are invited to boil them to perfection.
The meat is then rolled with fresh herbs and rice paper and dipped into a special sauce.
Fried beef skin with fresh turmeric
In Vietnam, beef skin fried with fresh turmeric is often prescribed for those suffering from a weak stomach. Whether or not this prescription works for you, the appetizer makes for a delicious accompaniment to a cold beer.
Thinly sliced beef is fried up with battered bits of turmeric, onion, celery, roasted peanut and chili.
The crisp meat slices are wrapped up in vermicelli, cucumber, bean sprouts and herbs and dunked into a flavored fish sauce. Voila!
Grilled beef
One of the joys of dining at a place like Bo To Xuan Dao is the pleasure of grilling up your own meat.
A whole cut of raw beef is placed on the table accompanied by a knife and cutting board. After cutting the meat to their liking, customers are invited to marinate the strips in a bowl of fish sauce, chili, garlic and lemon juice.
Traditionally, the meat is cut thin and thrown on the fire for a couple of minutes. To each his own.
Porridge with beef shin
Perhaps the most renowned Cu Chi District is porridge with beef shin.
The sinewy meat is partially stir-fried in flavorful spices and then simmered in coconut juice. Finally, the leg is boiled in bone broth.
Once tender and tasty, the beef is served with a rice porridge flavored with green bean, white bean, taro, cassava, green papaya and turmeric.
All of the items combine to create wonderful textures and a host of competing flavors.
The delicacy is so popular that it has spread throughout HCMC. Customers who can't make it to Cu Chi can enjoy the delicacy in downtown Saigon.
Reported by Nguyet Anh (Thanh nien news)