Tet in HCM City for the New Year of the Cat is going to be bigger and better than ever with lots of entertainment venues and festivals to visit. Local tour companies are offering amazing Tet packages.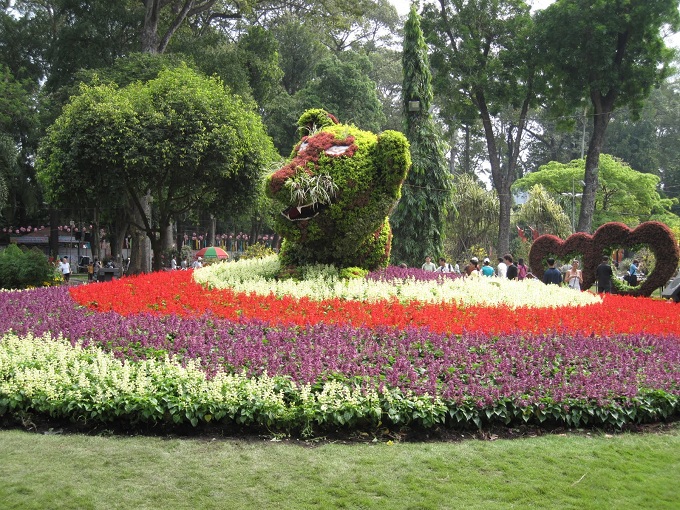 The HCM City People's Committee has announced programs for Tet Festival 2011 in the city's downtown area, including Nguyen Hue Flower Street 2011, Bánh tét (cylindrical glutinous rice cake) festival, fireworks, the lighting city, snapshots of New Year 2011 and doorshows.
HCM City
The annual seventh Nguyen Hue Flower Street 2011 is themed "New Heights" as HCM City sets its sights on a bigger and better city. Sections of the street will be decorated in different spring themes — Hn Vit (Vietnam's Soul), Tt phng Nam (Southern Tet), Ni vòng tay ln (Get together), Vn lên tm cao mi (Reach New Heights), Xuân an vui (Happy and Peaceful Spring). Other attractions include a flower arrangement booth, a wishing pond to collect money for charity, coffee stalls, folk music and games.
Nguyen Hue Flower Street extending down Nguyen Hue Boulevard from the City Hall to the river opens from 7 p.m., Jan. 31 till 10 p.m., Feb. 6. It will be closed to traffic for the holiday week. In addition, from 6 p.m. to 11 p.m. on Feb. 6, the nearby Le Loi Street from Ben Thanh Market to the Municipal Theater will be for pedestrians only.
The Bánh tét Festival from Jan. 26 to 31 is being jointly organized by all the city's 24 districts. Activities will include bánh tét cooking contests and a bánh tét Tet gift drive for poor families. Saigontourist Holding Company, in cooperation with the HCM City Department of Labor, War Invalids and Social Affairs, will give 10,000 bánh tét to disadvantaged children.
The fireworks displays on the Lunar New Year's Eve (Feb. 2) will take place at seven places around the city while Le Loi, Dong Khoi and Le Duan streets and Chi Lang Park on Dong Khoi Street are decorated with hundreds of lights from Jan. 26 to Feb. 13.
During the last days of the lunar year and the first days of the new lunar year, you can join the Spring Flower Festival at Tao Dan Park and Quoc Te Square, a.k.a. Tortoise Fountain, in the city's District 1. This year the "Bird Competition" comes back after a long absence.
According to HCM City Greenery and Park Co., the event's organizer, some highlights of the festival from Jan. 28 to Feb. 8 will be bonsai, flower and fish exhibits by locals and foreigners, an area for souvenirs, games and food at Tao Dan Park. The "Nha Rong – Ho Chi Minh Museum" miniature made from flowers and leaves by a Japanese artisan and orchids from the HCM City Orchid Club. Tortoise Fountain will be turned into a lotus pond with an exhibition titled "HCM City Socio-economic Achievement" and music performances.
Tours around Vietnam
Besides Tet programs in HCM City, tourists can enjoy Tet travel tour promotions around the country.
HCM City-based tour operator Vietravel is introducing the "Spring Travel 2011" program with over 100 tours and lucky prizes till Feb. 28. The spring heritage tour of the North will take you to Hanoi, Halong, Sapa, Trang An, etc. Witness the rich history of the central region by visiting Tet festivals along the Hoai River in Hoi An Town, Danang City, citadels in Hue City and Phong Nha Ke Bang caves in Quang Binh Province. Waterfalls and thousands of flowers are symbols of the Central Highlands while opera songs for Tet are specialties in the Mekong Delta.
Vietravel is holding a Tet lucky draw with prizes including diamond jewelry, vouchers and 20,000 gifts.
Another local travel giant Saigontourist Travel and Service Co. is offering 100 tour packages to enjoy the New Year of the Cat. There are nearly 20 island tours to Con Dao, Phu Quoc, Nha Trang, Phan Thiet and Danang. A world heritage trip in spring, the legendary Central Highlands and spring in villages in the Central Highlands. Saigontourist has also launched special tours for overseas Vietnamese returning for Tet.
Cholontourist Travel and Service Co. this year has tours to highlands and beaches, including adventure tours.
SGT