Bai Tru Beach on Hon Tre Islet in Nha Trang City is one of the nicest beaches in Vietnam – a tropical paradise for tourists to enjoy.
To get to the islet, take a taxi to Cau Da Port and then take a cable car to Vinpearl Land at VND320,000 return. After playing some games at the Vinpearl Land such as outdoor games, 4D movies, water sports at Vinpearl Water Park and a visit to the bizarre marine creatures at Vinpearl Underwater World, it's just a few steps more and your toes will be squeaking in the fine white sand of Bai Tru Beach.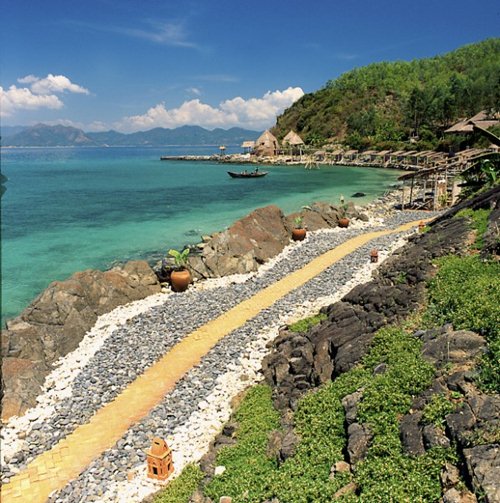 Bai Tru Beach on Hon Tre Islet in Nha Trang City
The beach is like a postcard. There are lines of coconut trees leaning toward the sea, blinding white sand, azure water that is as flat as bathtub and bungalows under the shade of the palms. Get yourself an umbrella or lay back on a reed mat under the coconut palms and let Bai Tru help you forget your worries.You can hire a motor boat and cruise around the island, even hire some diving equipment to go underwater and admire the reef.
If thrills are your thing, try the hot air balloon to take in an amazing panoramic view of the islet and Nha Trang City.
Source: SaigonTimes Online