The Nature has awarded Vietnam a fabulous Wonder with grandiose green tropical jungles, nice & mysterious caves & grottoes, and the Asia's oldest limestone mountains.., that is, Phong Nha-Ke Bang National Park.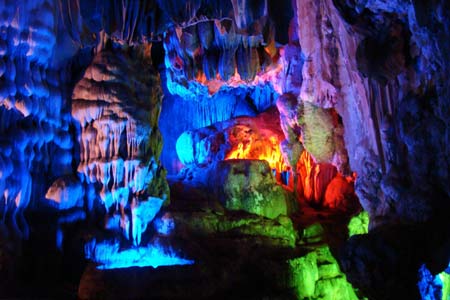 Phong Nha – Ke Bang is a huge national park located in Bo Trach and Minh Hoa Districts of central Quang Binh Province in north-central Vietnam. Like the North-central (or Bac Trung Bo) in general and Quang Binh Province in particular.
Formation History
Formation: The Phong Nha–Ke Bang karst has evolved since the Paleozoic (some 400 million years ago) and so is the oldest major karst area in Asia.Like much of Vietnam, it has been subject to extensive tectonic changes, thus the limestones of Phong Nha are inter-bedded with a number of other rocks.
Historical name: The park deprives it name from Phong Nha cave, the most beautiful of all, containing many fascinating rock formations, and Ke Bang forest. One has explained that Phong Nha means "Wind and teeth" based on Chinese transcription, which expresses the blowing wind inside the cave and teeth-like rough stalagtites.
Rivers & Streams
Phong Nha is such a beautiful landscape that you may have to hold your breath on contemplating. Here are the charming Son and Chay Rivers – the two longest underground rivers in the Phong Nha-Ke Bang, gently flowing in the middle of the two sides' reed and green bamboo rows. Most of the caves here have been shaped by those two rivers.
Limestone Mountains
The Park also contains two dozens of mighty limestone mountains with over 1,000 m in height. Some of the most noteworthy peaks are the Co Rilata Peak with the height of 1,128 m and the Co Preu Peak with a height of 1,213 m. Non-karstic topograhical area accounts for a low percentage, distributing mainly in outer circle of limestone in the north, northeast and southeast of this national park. The height of these summits varies from 500-1000  m with the deep divisions. The grandiosity and uniqueness of the limestone mountain ranges that only can be found in Phong Nha-Ke Bang is of great attraction to tourists.
Flora-Fauna
It's now time to explore the zone in its rich Flora-Fauna composition. The Ke Bang primary jungles have been home to 98 families, 256 genera and 381 species of vertebrates, many of which are listed in the Vietnam and World's Red Book.
Visiting Phong Nha Cave
Penetrating to a distance of 1,500 m inside Phong Nha Cave, tourists may go from surprise to surprise! Phong Nha – Kẻ Bàng is also named "Kingdom of Caves". Up to now, there are more than 300 caves that have been discovered, and still continuously shaped by the Chay River.
The Son River flows into the mouth of the cave and keeps flowing underground, where it is referred to as the Nam Aki River. The main Phong Nha cave comprises 14 chambers, connected by an underwater river that runs for 1.5km. Notable caves and grottos of Phong Nha are Phong Nha Cave (Hang Phong Nha), Dark Grotto (Hang Tối), E Grotto (Hang E), Cha An Grotto (Hang Chà An), Thung Grotto (Hang Thung), En Grotto (Hang Én), Khe Tien Grotto (Hang Khe Tiên), Khe Ry Grotto (Hang Khe Ry), and Khe Thi Grotto (Hang Khe Thi). The most famous one is Phong Nha cave, which has been considered as "First-ranking Cave Wonder" for its world's most beautiful stalactites and longest rivers by the Brishtish Royal Geography Association.