Duc Hanh meets the artist Ngoc Linh, who in 1991 created a series of tiny oil paintings inspired by Hanoi.
Duc Hanh meets the artist Ngoc Linh, who in 1991 created a series of tiny oil paintings inspired by Hanoi. As the city prepares to celebrate its millennium anniversary, he now hopes his miniature paintings will inspire efforts to preserve the city's heritage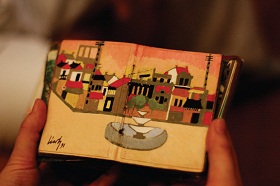 Ngoc Linh's miniature paintings were created in 1991 on old lottery tickets as at the time he couldn't afford actual paper
People tell me that the artist Ngoc Linh is 80 years old but I'm not convinced. When I arrive at his door I come face to face with a sprightly man who seems far, far younger.
Born in Lang Son province, Ngoc Linh is ethnic Tay and was originally named Vi Van Bich by his parents. His grandfather Vi Van Dinh was chief of Ha Dong and Thai Binh provinces in French colonial times. His father studied in France before returning to Vietnam to open up a small business on Hang Dao street.
When Linh's grandfather moved to Thai Binh province, he spent a lot of time with his grandson. Linh's love for the countryside is apparent in his early career. In 1961 he worked as a set designer on the film Vo Chong A Phu (Mr and Mrs A Phu), about the life of mountainous tribes in the northwest in French colonial times. He also worked on Sao Thang Tam (August Star), which was filmed in 1975, right after national unification.
One of his most famous pieces is the large oil painting of Xuan Chien Khu (Spring in the northernmost Vietnam base), which features imposing landscapes, a burning sun, wild flowers, green forests and turquoise mountains. In another picture, Linh paid tribute to Vietnam's 54 ethnic groups in a massive oil painting he made in the early 70s. Ngoc Linh's paintings were clearly imbued with the harmonious pastoral beauty of his hometown of Lang Son – the surrounding forests, the precipitous slopes, and the sweet smell of anise and cinnamon in the air.
But the artist is also deeply fond of the capital city. Living alone in his house-cum-studio in Hao Nam street, he often paints and reflects on the streets of Hanoi. When I broach the subject, he wanders over to a small red lacquer box and takes out one of his prized possessions: a pocket book on which he has written the words, "Hanoi… my love."
Inside the well-worn book are 140 tiny oil paintings he created in 1991 when he set out to document a precious beautiful corner of an old Hanoi that was vanishing slowly in the face of the country's rapid development in the early 1990s. The paintings are minute but intricate, vivid and overflowing with love.
Back in the mid-80s, after working on several successful films, work dried up in the film industry. With no job, Linh decided to set up a café to keep himself busy. Ngoc Linh Café at 96 Ba Trieu street was a popular spot. For around four years, the artist made coffee and washed 500 glasses a day.
But in the end he decided to close the café  so he could have more time to paint. His family set up a wedding-dress-for-hire shop but he spent his days cycling around Hanoi observing the daily changes he saw around the capital.
"I felt sad when I saw the old beauty of Hanoi – French villas, old street houses, ancient villages and green trees – disappearing," says Linh. "I decided to capture these things' last days, at least what I loved."
But why did he make these oil paintings on such tiny paper?
The artist blinks his eyes and smiles before explaining that in those days his family was rather poor. Paper and canvases were very expensive and hard to buy. Linh's 14-year old granddaughter had a classmate whose mother sold lottery tickets. Linh noticed the discarded tickets were printed on nice, thick, smooth paper with imprints of beautiful Vietnamese women.
"At the time such paper was a precious commodity and rare for a poor artist like me," recalls Linh. "But their small size meant I could put some in my pocket while cycling around the city. So I asked for 100 tickets and started to paint over the pages to make this book."
"At first I drew for pleasure, but the work started to bewitch me. Initially I painted on one side of the ticket but eventually both sides were used. I only left two pictures of the beautiful girls to remember they were lottery tickets."
The Hanoi in his paintings appears vivid and strange in comparison to the present bustling and overcrowded capital. The old Cua Nam Market is now a modern ten-storey business centre. The O Quan Chuong Gate guards an empty street. His charming portraits and drawings are imbued with the honey sunshine of autumn or spectacular red sunsets.
"I loved the beauty of Hanoi when its peaceful and quiet but now the old houses, villas and garden houses, are being lost day by day and being replaced with rigid and soulless buildings. I wish to keep these beautiful images for my descendants."
He also wishes his artwork could send an inspirational message to city authorities and encourage them to maintain the country's heritage.
VNS