"Com hen Song Huong" is a dish served at room temperature, made with mussels and leftover rice. It is a complicated recipe that includes sweet, buttery, salty, sour, bitter and spicy flavors.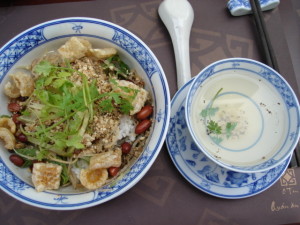 Com hen Song Huong (or Com hen in short) is the very simple and low-priced specialty of Hue, the ancient citadel of Vietnam. Accordingly, the way of serving this special kind of food is of great ancience, simplicity and deliciousness.
Com hen has a sweet-smelling flavor of rice, onion, and grease, as well as strange tastes of sweet, buttery, salty, sour, bitter, and peppery-hot. You have to arrive to Hen river-islet in the Perfume River to have the original Com hen. However, you can find out the dish on some streets in Hue City. It requires 15 different raw materials to prepare for the dish, including mussel, fried grease, watery grease, peanuts, white sesames, dry pancake, salted shredded meat, chilly sauce, banana flower, banana trunk, sour carambola, spice vegetables, peppermint, salad, etc.

Com hen is always attractive to many customers since it is tasty and, at the same time, economical to anybody.
What makes this simple kind of food popular is revealed in the great endeavor to adopt and process its main ingredient – mussel. Mussels are sea species, which must be dipped in water for a long while before being processed. Accordingly, people often say that com hen somehow expresses the strenuous work of the maker.
Where to find it? Very easy as it is popular everywhere in Hue and these days, elsewhere in Hue restaurants in Vietnam. More favorably, it is a low-priced specialy, thus you could eat it in luxurious restaurants in Hue or even in vendoring mobile shops on the streets.
"Visiting Hue could not miss Com hen, or else you have not come to Hue ever!" is the most common remark of visitors elsewhere to Hue. So, please come and enjoy it yourself!
Source:  Vietnam Food – Collected by Vietnamtravelblog.com