"Want to eat white with catfish
Want good hats to the Chuong village"
The center of Hanoi about 40 km west of the Chuong village (Thanh Oai district, Hanoi) from hundreds of years was famous for palm leaf conical hat. With 2,400 households in here, this job is not rich but enough to live suitable with the poor rural, less plowing and transplanting.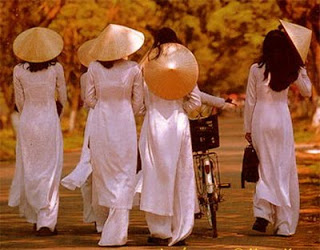 Vietnamese girl with white orient robe and palm leaf conical hat
Long-lasting images slender woman in oriental robe and a palm leaf conical hat or loving in the four panel traditional dress with flat palm with fringes  was bold in the mind of Vietnamese people. The palm leaf conical hat follow Vietnamese women in all the ways,  working on the hot field  and today on the brilliant catwalk. Palm leaf conical hat of Chuong village beautiful design, durable back, how was the souvenirs of girls stepped up to carriage decorated with flowers follow husband.
Ancient hat of Chuong village was a gift carried the queen, the princess by own beauty, were made by hand so talented, skillful artisans of the village. Today, hat of the Chuong village are everywhere, both inside and outside the country.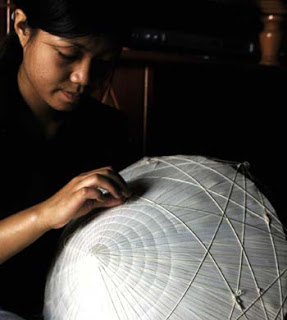 An average day, Chuong village is make 7000  palm leaf conical hats, bring consumption out of the province. In addition, the village bell hats were exported to China, Japan and European countries.However, compared with other villages, people of Chuong village are still poor. Raw materials must be imported from the leaves extinct Quang Binh, Ha Tinh, because the village was not planted. Price caps cheap travel products, from 3000 to 7000 e / unit, a family should do, only an average household income is only 10,000 to 15,000 VND per day.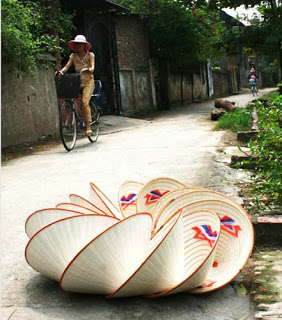 A conner of Chuong village
Bring-glare white hat with stitching clever and certainly on hand, few know that, to make it very very meticulous. First is the choice of leaves. Leaves were purchased to crush up of sand then dry two, three times sun until the leaves are green to white. Then, holding the rag, lined leaves, plow blades using rapid strokes that leaves flat, but not brittle, not crushed.
Round of hats are made small bark of bamboo and erasing. When connected, the compulsory round of hats should round not be conjoined ripple marks. Unlike the normal hats are usually  up to 20 round layers, hat of Chuong village has 16 classes  help ensure durable hat but still soft.
Next, workers ranked within each leaf into a hat, a sheath of bamboo and a layer of species of bamboo then stitching. Sewing is a very difficult stage, because the leaves are easily torn, so only the skilled hands, there are new experiences. Hand held metal workers quickly at the first glance, smooth, straight stitches each both from within and outside.
The hat take shape, the artisans dry the hat over sulphur gas make color of hats become white and hats are not mouldy.Formerly, the Chuong village produce many palm leaf conical hats, used for many classes of people such as flat palm hats with fringes for girls, Nho hats, feather hats, soldier's conical hat, metal stopped conical hat for the boys and the men of luxury. But from 1940 until now, the Chuong village artisans made only a single type of hat.
Mr. Cat Hai, an artist now than 80 years old, who has deserved bring Xuan Kieu hats, also Ba Don hats to  the village production replace ancient hats types.
Currently, the village only two artists made ancient hats. It was Mr Tuy Le Van making metal topped hat and Tran Van Canh make flat palm hat with fringes.
Making flat palm hat with fringes more complex as normal hat, but not commonly used. Therefore, the hosiery was poor, making flat palm hat with fringes get poorer. But with the intention of "Keeping a traditional produce no loss in the present life and to keep the children know it". Tran Van Canh artists have decided to find out and keep doing traditional flat palm hat with fringes of village. Seventy four year-old, who lost a leg in the war, but his hands still nimble, agile. His products are exported to the orders of a member of the ensemble provinces. Fat palm hat with fringes of his have been displayed at exhibitions at home and abroad.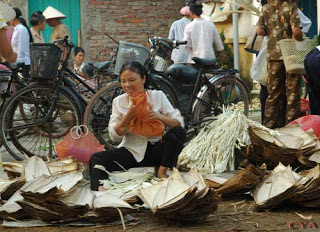 Collect material for making  hat
Market of Chuong village meeting in a month 6 main session, on days 4, 10, 14, 20, 24 and 30. The fair is only sold only hat. Hats are classified into long-husband, glare white. This job suitable for women and they  are also major consumers. Therefore, the fair attracted a large number of village women and girls to come. Go to market of Chuong village in the early days of the year, see all the special identity of a traditional village, said that the new color white hat has become a close friendship with the people. The white hats have everywhere, mixed pink face of rural women, with laughter, voice, thrill invitation. Although still poor, but many families that had adopted only two hats, three children, who pass college courses. "I'm proud of the traditional craft villages, but hope that the village was more concerned for those who make life as our hats down hard." An artist for over 40 years with career, was revealed as such.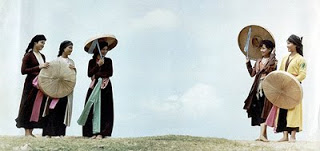 Flat palm hat with fringes in Quan ho fork song
Inside the slope of dyke dry very white leaves, hand bell villagers, from children are 7- 8 years old until old man and woman are 70- 80 year old still maintain the beauty of each day for a traditional craft, keeping a simple beauty of a woman Vietnam, contributed more pride for our international friends.
(Source: http://visithanoi.blogspot.com)