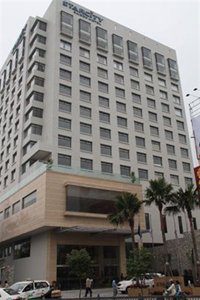 Ocean Hospitality and Services Joint Stock Co. (Ocean Hospitality) on Thursday announced it has launched the soft opening of a StarCity Hotel in HCMC, the first of its hotel chain to be developed in the country.
The StarCity Saigon Hotel is a four-star hotel located at 144 Nguyen Van Troi Street in Phu Nhuan District, just five minutes away from Tan Son Nhat International Airport. With 199 rooms, the US$35 million hotel is designed to cater to business and leisure travellers.
Facilities include a restaurant, a piano lounge, a wine bar, meeting and function rooms, business center and wellness centre.
Ha Van Tham, chairman of Ocean Group as the parent firm of Ocean Hospitality, said that Ocean Hospitality would open six or seven hotels of this brand over three years in HCMC, Hanoi, Ha Long, Nha Trang, and Hoi An.
Other hotels that will be completed this year are Novotel StarCity Hoi An Resort, StarCity Halong Hotel, while hotels to be completed next year are StarCity Westlake Hanoi Hotel, StarCity Nha Trang Hotel and StarCity Airport Hotel.
Tham said that Ocean Hospitality targets the four-star standard for the StarCity Hotel chain.
"We believe that operating four-star hotels will be more effective than five-star ones." he said. "Investment in a four-star hotel can be recouped within 10 years after it is put into operation, while it will take a five-star hotel an extra 4-5 years to do that."
Tham said this was a good time for the company to invest in the hospitality industry because of a surge in the number of travellers and foreign experts as well as investors arriving in Vietnam owing to the global economic recovery.
To carry out hotel projects, the company will mobilise capital from the stock market, financial organisers and banks. It also will cooperate with other companies to develop the projects.
Tham noted that all of StarCity hotels would be managed by Ocean Hospitality.
Ocean Hospitality targets to invest and manage some 20 StarCity hotels. The company is also in talks with partners from China and Japan to manage and invest in hotels in the two countries.
Ocean Hospitality listed its 100 million shares in the Hanoi Stock Exchange in early October, 2010 under the code of OCH. The company, headquartered in Ba Dinh District in Hanoi, specialises in property, hotel and tourism services, resorts, infrastructure, housing and food processing.
Last year, OCH obtained a combined pretax profit of VND115 billion.
Source: SaigonTimes