By Lam Van Son in An Giang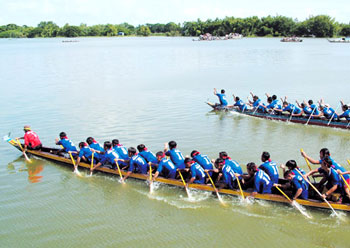 Teams compete every year in a dragon boat race
Bung Binh Thien (Peaceful Lake of Heaven), is a fresh-water lake in An Giang Province that is popular for weekend getaways.
Located in An Phu District, in the Mekong Delta province of An Giang, the lake links the communes of Khanh Binh, Nhon Hoi and Quoc Thai. Fed by Binh Di River and Hau River, the natural lake is tranquil all year round.
It covers about 200-300 hectares and is four meters deep in the dry season. As it is connected to the Mekong River system its width triples in the rainy season, with the depth increasing up to seven meters. It is the largest fresh water lake in the southwest.
The stillness of Bung Binh Thien reflects the sky while water-lilies and lotus sway in the wind.
Bung Binh Thien is home to many ethnic Cham people who have maintained their amazing culture and traditional festivals such as Roya Phik Trok and Ramadan. On full-moon nights, young couples often take a boat and sing love songs.
The lake plays host to local boat races and water games in August. Tourists are welcome.
Collected by Vietnam hotel