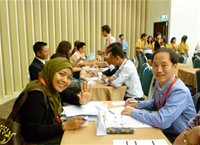 HCMC, the country's biggest tourism centre, will need to build around 6,000 three- to five-star hotel rooms by 2015 to meet the rising demand of MICE guests, according to a report.
The city received 2.6 million foreign visitors last year and the figure was earlier forecast to rise to over 2.8 million this year but the actual number might be around 3.1 million.
Given that growth rate, the Hotel Division of the HCMC Department of Culture, Sports and Tourism has forecast growth of international arrivals in 2009-2015 would be 15% per year to reach over 3.9 million visitors by 2015. Around 988,000 of the visitors will come for business purposes.
The hotel division said at a meeting early this week, "The three- to five-star hotel rooms make up around 24% of the total rooms, so they are not enough to serve to big MICE (Meetings, Incentives, Conventions and Exhibitions) groups."
The city now has 785 hotels with over 24,000 guest rooms, including 68 three- to five-star hotels with nearly 9,300 rooms.
HCMC, according to the division, has around 200 meeting rooms measuring a total of 28,000 square meters. Almost all of the rooms are at the standard hotels, and the rest at convention centres such as White Palace, and Saigon Exhibition And Convention Center.
As for the hotels, the Windsor saigon has the biggest number of meeting rooms, at 22 with a total area of 2,700 square meters, and its grand ballroom can seat 1,200 people.
The Sheraton Saigon Hotel and Towers has 13 meeting rooms covering a combined 1,500 square meters. The seating capacity of its grand ballroom is nearly 1,100 people.
MICE organisers often choose four- to five-star hotels for international conferences but the meeting rooms that meet requirements for such conferences are insufficient to meet the demand.
Rents for the meeting rooms at the five-star hotels vary depending on locations. The 1,000-seat-plus ballroom at the five-star hotels in the downtown area costs US$13,500 per day but the rent is a mere US$3,600 for five-star hotels far from the city centre.
For the same downtown location, the rents may also be different. A five-star hotel may charge a 700-seat meeting room at US$3,000 while another five-star hotel may demand US$6,800 for a 500-seat meeting room.
Source: SaigonTimes Online