We spent 3 days in Hội An that we used mainly for recovery. The city, the environment and especially the beach invite to relax. We stayed at the very nice hotel "Golden Sand Resort & Spa", which is made for relaxation, but also requires a bigger budget. At this point, thanks once again to the sponsors! The hotel is somewhat isolated from Hội An, but this is compensated by a beautiful beach and a free shuttle service. Another possibility to reach the city and its many restaurants is to rent a motorbike. Opportunities for this exist almost everywhere. Here one should make sure to discuss any additional costs in advance. It brought us some trouble not to check the fuel level before.
Hội An is a beautiful city, which was declared a UNESCO World Heritage Site. Apart from the small winding alleys and old buildings, the Japanese bridge must be mentioned, which can be visited and has its charm both day and night. Hội An is also known for its cheap and good tailors. Small shops can be found at every corner where you can let sew fashionable clothing in a very short time. Lampions in all colors and shapes can be bought at an auction as well. In the evening, when lampions are shining in the trees and on the streets, you also feel like taking this unique atmosphere back home.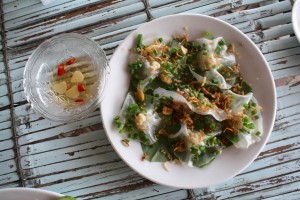 In addition to our entry on recommendable Vietnamese dishes we want to describe the specialty of "White Rose ". the name suggests, each individual rice bag has the shape of a flower. This tasty dish made of rice pastry can be ordered in almost every restaurant in Hội An. As far as we know, the recipe is a secret.
Translated by Caterina – Vietnam.com