Hanoi's Old Quarter is one of the most exciting parts of the city for tourists but for many residents it's far from glamorous.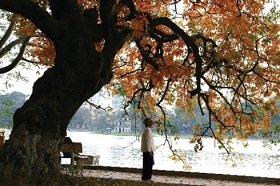 To Vietnamese the Old Quarter in Hanoi is known as Pho Co, which means 'Ancient Streets'. This is indeed the oldest part of Hanoi's urban core. Only the recently excavated foundations of the Thang Long citadel could compete. But that was the Royal compound – a sealed, planned seat of power, where the country's elite lived away from the thronging masses.
The Old Quarter is the descendent of Thang Long- Hanoi's first urban gathering of commoners. A market town – once known as Ke Cho – sat on the outskirts of the Royal Citadel. This organic settlement grew through the centuries. From the 15th to 18th centuries it had a vibrant riparian trade on a par with Venice, according to European visitors. In the early 13th century, workshops started to cluster around the palace walls, slowly evolving into craft cooperatives, or guilds. Skilled craftsmen migrated to the Old Quarter, and artisan guilds were formed by craftsmen originating from the same village and performing similar services.
Inhabitants of each street came from the same village, so streets became synonymous for certain goods while also developing a homogeneous look. That's how the street names were born. Hang Bac (Silver Trading Street), for example, started out as a silver ingot factory under the reign of Le Thanh Tong (1469-1497). Hang Thiec (Tin Trading Street) was home to set of tinsmiths. The craftsmen originally produced small tin cone-shaped tips to preserve the shape of the traditional conical hats – non. No prizes for guessing that on nearby, Hang Non, lived the hatters.
The Old Quarter is still faithful to much of its original essence. It's still teeming with trade. It's also now partly the city's "backpacker quarter" with plenty of cheap hotels, guesthouses, travel agents, late night watering holes, pirate DVDs and gift shops selling knock-off clobber, propaganda art or simple souvenirs.
Some of the streets have a striking dual identity, partly traditional, partly modern – one side of Lan Ong is filled with apothecaries selling Chinese herbal remedies, roots and medicinal teas, the other half is dominated by childcare shops flogging diapers and kiddies clothes.
One European visitor, Samuel Bacon, who came to the city in 1685, noted how "all diverse objects sold in this town have a specially assigned street", delighted at the sight of a shoe stall at the end of a street dedicated to manufacturing shoes. Over 300 years later, things have inevitably deviated and in some case the names got left behind. Now most people shop for shoes on Hang Dau (oil trading street).
Tourism Destination
The "street life" makes it a thrilling destination for tourists. It's also one of the reasons why Hanoi has been described by Frommer's as Asia's most Asian city – the place is alive from dawn. Even without the traders, shoppers, and tourists, it would be a crowded place. It's one of the most congested urban zones in the world with an estimated 84,000 people per kilometre.
This is not a place where you come to chill out. The tourists who fall in love with this part of Hanoi are the ones that like to get involved – haggling in shops, slurping noodles or drinking bia hoi on the pavement, and seeing the lighter side of getting harangued by the know-it-all postcard sellers or the shoeshine boys.
But the streets' façade masks a darker side to life in the Old Quarter. If the tourists were to wander down the damp, cramped alleyways, they would find many people are living in squalor.
One resident, Nguyen Thi Van, owns a 17sqm-floor room above a clothes shop on Hang Luoc street, which has no windows. The house's toilet and kitchen sit side by side. Van lives there with seven member of her family. "I'm lucky enough," she says. "I know of families of 10 living in a 20sqm room."
Van's eldest son just got married last month and wisely decided to break with tradition – normally a newly-wed bride will move in with her husband's family. They opted to live with her parents. Her other son works as a security guard and he often sleeps at his company's office.
"If they all lived here, I don't know how we'd manage," Van says. In an old French colonial period house on Hang Vai street, much of the original interior is still apparent with wooden staircases, windows and floors. But the place is in a bad state of disrepair. The 18 families who live in the three-storey house are all sick of living in these slum-like conditions.
"We want to repair our home, but we cannot as we are not allowed by the local authorities," says Do Thi My, one of 90 people living in the house. "The most terrible thing is the toilet – it's shared by more than 100 people as neighbours use it too," My says.
Dated architecture
Although the Old Quarter's street outline dates back 500 years, many of the houses in the area were constructed in more recent times – from the beginning of the 20th century and onwards. Homes evolved out of market stalls, before actual streets were formed, and because storekeepers were taxed according to the width of their storefront, storage and living space moved to the rear of the buildings. Consequently, the long and narrow buildings (3m wide and 60m long) were called tube houses.
The houses tend to be interspersed by courtyards or "wells" to permit light into the houses and allow some space for activities like washing or gardening. As Australian geographers Brian Shaw and Roy Jones noted in a paper on heritage conservation in Hanoi, the houses also had a natural air conditioning system: the difference in ambient temperature between the inner courtyards and the outside street created air flow, and the longer the house, the greater the velocity of the flow. The structures were built out of brick cemented together with sugar-cane juice!
But in spite of all the problems, and in spite of the fact that the residents complain bitterly, many inhabitants don't actually want to move elsewhere. Convenience seems to trump comfort.
"We never think of leaving as it's so handy living here – we have everything we need all around shops, markets, schools for children," says Pham Thi Bich, who lives on Hang Dong, who shares a 36sqm-house with four households.
"We are used to this lifestyle. And we depend on our shop at the front of the house. If the State forces us to relocate, how will we earn a living?"
Restoration of such an overcrowded and chronically outdated infrastructure is quite literally the million-dollar question. Over the past few years, UNESCO, Sida and other organisations have tried to come up with a feasible solution. Recently, a pilot project to renew a short section of Ta Hien street was approved – the first tentative step towards tackling this thorny issue.
The VND10 billion ($526,300) renewal project was funded by Hoan Kiem district authorities with additional financial and technical support from France. A new electricity system will be installed, lighting will be improved, homes will have a better water supply and drainage will also be upgraded. The street will also get more trees and the pavement will be re-paved.
And even though some residents complained they'd lose money from street side business while the project was in progress, perhaps that's the only answer – a painstaking, gradual renewal, helping the Old Quarter to slowly evolve in a sustainable fashion.
Source: Timeout