Talking about Quang Nam province, probably many people would think about Hoi An street or My Son holy city; however, the beautiful landscape in the west of Que Son town, at the headwaters of Thu Bon River is also a very attractive destination.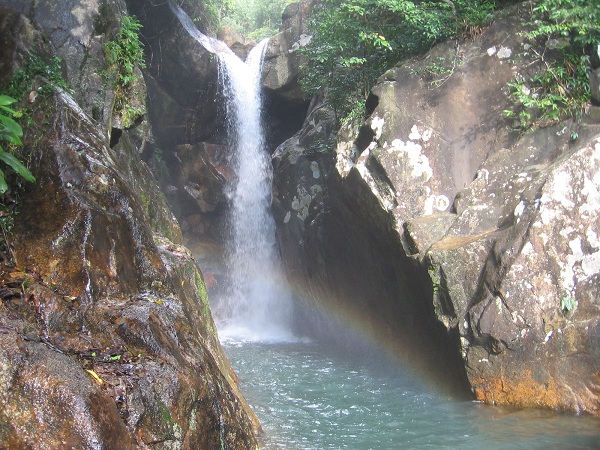 Tay Vien hot spring brings enjoyment and relaxation
Distant from My Son vestige about three kilometers towards the west is Tay Vien hot spring. This place is taken form from some earthquakes in the entrails of the earth millions of years ago.
The water in these two streams is very clear, with the average temperature of about 85 degrees.
This is an ideal place for tourist to steam bath. The stream's water contains many precious mineral substances such as calcium, potassium, sulphur and iron.Tourists can also have a mud – bath here, which can help them to relax and cure some sickness.
At a distance of about five kilometers from Tay Vien towards the east, there is a very beautiful stream, named Fairy Stream. This is one of the most beautiful streams in the Central region.
Located in two sides of the stream are the rocky mountains. In the afternoon, the sunset contrasts and creates miraculous colors, and makes the landscape become a natural painting, which is so beautiful and impressive.
About 2.5 kilometres from Tay Vien hot spring towards the west, there is a cultural village, Dai Binh village. It is located nearby Thu Bon River.
Coming there, tourists can totally feel comfortable when relaxing in the ancient houses and enjoy the countryside fruits. The gardens here are just like ones in the South with so many kinds of fruit such as durian, mangosteen, rambutan, langsat, orange and grapefruit.
There is also ferry – boats for tourists to enjoy the scene along Thu Bon River. On the two sides of the river, people grow many mulberry. Tourists would be very impressed with the immense green of these mulberry gardens.
Tourist can stop their ferry – boats at any white sand – banks along the river to enjoy the beautiful landscape around as well as swimming, catching fishes and the delicious baked fishes.
The flow crosses two mountains. The cliffs look just like the huge dykes that divide the water into two parts. The scene is just so imposing.
When the ferry – boat floats downstream, tourists would have chance to visit Le Pass, with a beauty that is not very different from Fairy Stream. On this way back, Que Chau village would welcome tourists with the traditional Vietnamese opera and Non village would make tourists interested with the process of making "non la" (conical hat)- the traditional hat of Vietnamese people.
(Source: SGGP)