A tour of the top of Ba Na Mountain in the central coast city of Da Nang Vietnam is never complete without a walk around the Linh Ung-Ba Na Pagoda.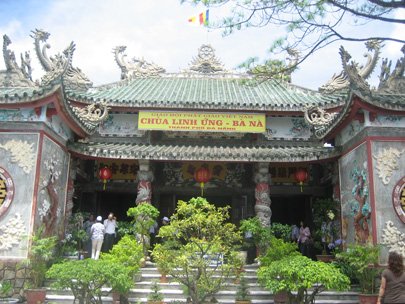 This is one of the three Linh Ung pagodas in Danang with the other two being Linh Ung-Bai But on Son Tra Peninsula and Linh Ung-Non Nuoc on Marble Mountains.
Linh Ung-Ba Na is the highest pagoda among the three as it is located at around 1,500 meters above sea level.
The pagoda is part of the Ba Na Hills ecological resort complex on top of Ba Na Mountain. It is a real challenge to walk up a very steep road to the pagoda from the Gare De Bay transit terminal where visitors take a cable car ride to the top of the mountain after going halfway to the peak. Don't worry about that as vans are available for those who are not ready for a workout.
The pagoda is an excellent place where visitors can take a good look at the French-style mansion of the Gare De Bay terminal nestled in the jungle and looking just like a European castle as described in a fairy tale. Standing there, visitors can also have a bird's-eye view of the jungle and the city below.
What's more striking about the pagoda is the 27-meter-high white Sakyamuni Buddha Statue with the octagonal base having a story about the eight stages of the Buddha's life.
Just around 40km west of downtown Danang, the Ba Na Mountain and especially the Linh Ung-Ba Na Pagoda should be given a try when you are in Danang.
(Source: SGTO)