Vu Thu Ha discovers an unassuming house near Truc Bach Lake that is home to opulent bronze works from Ngu Xa Village.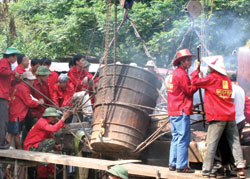 Hot stuff: Melted bronze is poured into a mould to cast a five-tonne bronze bell at Nguyen Van Ung's workshop, one of the two remaining bronze casting workshops in Ngu Xa Village. VNA/VNS Photo Huy Hung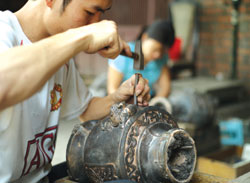 Be patient: A young artisan at Nguyen Van Ung's workshop. Because bronze casting is a tough task which requires not just a great deal of skill but also concentration, diligence and love, not many youngsters today are patient enough to pursue this work. VNS Photo Viet Thanh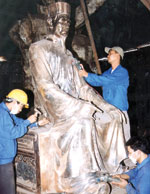 Metal memories: A product by Ngu Xa artisans, the three tonne bronze statue of Chu Van An, a famous Vietnamese scholar from the Tran dynasty, rests at the Temple of Literature in Ha Noi.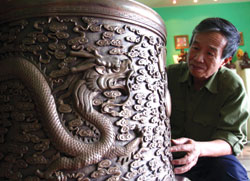 Master's craft: Artisan Nguyen Van Ung checks one of his products displayed at the showroom in his house.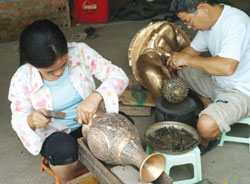 One and only: All Ngu Xa bronze products are made by hand, one after another, so each product is unique. VNS Photos Viet Thanh
Nguyen Van Ung's red house is easily spotted along picturesque Tran Vu Street on Truc Bach Lake to the west of downtown Ha Noi. The house is eye-catching not only because of its colour, but also due to its unusual architecture, a mishmash of ancient and modern.
If, like the many foreign tourists who come to the city, you venture through the front door, you will travel back in time 400 years to the age of the Ngu Xa artisans who specialised in casting bronze.
Defying the tests of time, Ngu Xa Village, like the bronze works its craftsmen produce, refuses to die.
The room on the ground floor of the house is like a small museum. It is where Ung and his craftsmen keep alive an ancient and proud tradition.
There is a Vietnamese saying: "Linh hoa Yen Thai, do gom Bat Trang, tho vang Dinh Cong, tho dong Ngu Xa" (Glossy silk from Yen Thai, pottery from Bat Trang, goldsmiths from Dinh Cong, bronze-casters from Ngu Xa). These were the most famous traditional craft villages of Thang Long, now known as Ha Noi.
According to historical records, in the 16th century during the Le Dynasty (1428-1789), bronze craftsmen from five villages in Sieu Loai and Van Lam districts (which are now in Bac Ninh and Hung Yen provinces) moved to Thang Long royal capital to practise their craft. They produced statues, bells, Buddhist artefacts and coins for the royal court. Their reputation shone, like the works they produced, throughout the kingdom.
In recognition of their prowess, they were permitted to settle on the Truc Bach peninsular in the west of Thang Long, which now consists of six streets on the edge of Truc Bach Lake. They named their new home Ngu Xa, or Five Villages, in memory of their original homes.
The heyday
From the 17th to mid-20th century, virtually everyone in the area worked with bronze. When you were born, your future was already cast.
Nguyen Huy Luong wrote the poem Tung Tay Ho Phu (Praising the Beauty of West Lake) in the early 19th century, which glorified the work of the bronze makers: "Lua dom ghen nam xa gay lo" (Even fireflies have to envy the kindling fire of bronze-casting furnaces at Ngu Xa).
Many works by Ngu Xa artisans through the ages have become national treasures, such as the 3.6-tonne statue of Huyen Thien Tran Vu (the Guardian) in Quan Thanh Temple in Ha Noi made in 1677 and the 14-tonne 3.95m statue of Buddha Amitabha at Than Quang Pagoda in Ngu Xa Village, which took four years to create and was completed in 1952. The larger-than-life statue of the Buddha sits on a blooming lotus with 96 petals, which by themselves weigh 1.6 tonnes. It is the largest bronze statue of the cross-legged Buddha in northern Viet Nam.
Ung is especially proud of this work because his father and uncle were among the craftsmen who created the statue.
Apart from the skill casting bronze necessitates, it also involves a great deal of physical labour, as Ung explains.
"Bronze casting is extremely strenuous work. But it was much harder in the past without machinery. Now we use cranes and vehicles when pouring molten bronze into moulds, which makes things a lot easier.
"Just imagine for a moment: two people carrying a 50kg pot of molten bronze and pouring it into a mould, time and time again. Can you imagine just how much time and effort it takes to pour tens of tonnes of molten bronze into a mould to make a statue?"
But, according to Ung, it is a labour of love.
Keeping the flame alive
Unlike the ancient statues created by Ngu Xa craftsmen, the village itself has changed beyond all recognition. Truc Bach Lake has shrunk, and tarmacked streets criss-cross the former village, which is now better known for pho cuon (beef and vegetable wrapped and rolled in a rice pancake) and seafood.
Ngu Xa's fortunes declined sharply in the mid-20th century due to the scarcity of bronze, and craftsmen were even forced to churn out aluminium goods to meet the needs of society and the military during the war.
However, it underwent a resurgence in the late 80s when the economy of the country improved and demand for bronze was rekindled.
But, the artisans themselves are few and far between. Now, Ung's family is just one of two keeping the traditional art form alive. And the other is headed by Ngo Thi Dan, who is actually Ung's sister-in-law.
"Bronze casting is very hard work. It requires not just a great deal of skill but also concentration, diligence, care and true love. That's why not many young people are interested in pursuing this line of work," Ung says, adding that it is a melting pot of culture, art and religion.
"It is actually a 5-in-1 job," Ung says.
He explains, not without a degree of pride: "A good bronze caster must be skilful in five things: first, he must be a sculpture with an eye for design; second, he has to build the mould, which is made from clay (the exact makeup of which is a secret known only to Ngu Xa artisans); third, he must make a casting kiln; fourth cast the mould and last, he must carve the final design."
The job is not without heartache.
"Sometimes you spend several months making a product, but just one small mistake and all is lost. For example, you might cast a bell that to all intents and purposes is perfect, but then the ring doesn't sound right. That is when you fail and all your effort is in vain."
Casting bronze also requires room, says artisan Dan.
She says her house, like that of Ung's, only has enough space for displaying some of her works and they both have to rent rooms near the Hong (Red) River as workshops.
"This prevents us from expanding our business and training more apprentices," Ung says.
But despite these difficulties, both Ung and Dan are determined to keep the bronze casting tradition alive.
And their work is as sought-after now as ever.
"It's regretful that we don't have enough capacity and staff to meet the demands of the market," Ung says.
Thirty artisans work alongside Ung, including his three sons and other children from his extended family, as well as non-relatives.
Among his proudest achievements are the statues of Sakyamuni at An Da Pagoda in Hai Phong City, Duc Ong (the Lord) in Huong Tich Pagoda and President Ho Chi Minh displayed at the National Assembly and the Presidential Palace. Just recently, Ung's team finished casting a five-tonne bell, which will be hung in the bell tower at the historical Dong Loc T-Junction in Ha Tinh Province.
Ung has had many offers to work abroad, but he says that his goal is to keep the bronze-casting tradition alive where it belongs, here in Ha Noi.
"I want to first serve Vietnamese customers and pass on my craft to Vietnamese artisans," he says, casting a glance around the room. VNS