With its distinctive culture, beautiful natural scenery and affordable attractions, Viet Nam has emerged as one of the top destinations for travellers in the next two years from Thailand, Australia, Japan and Singapore, according to a survey.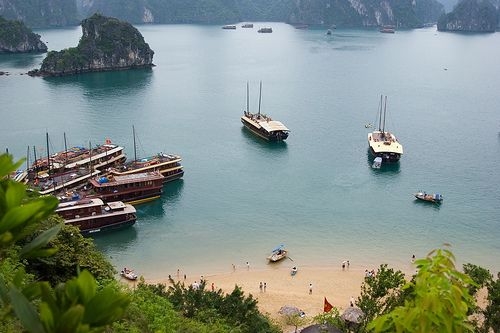 Results of the Asia – Pacific Travel Intentions Survey were shared by two conductors – Visa and the Pacific – Asia Travel Association (PATA) at a seminar in Ha Noi yesterday.
Among travellers who were most likely to visit Viet Nam in the next two years, 17 per cent were from Thailand, 16 per cent from Australia, and 11 per cent from Japan and Singapore, the survey reported.
Nielsen conducted the online survey in May. The survey asked 6,714 respondents from 13 key Asia – Pacific travel source markets about past and future travel plans. The markets included Australia, Hong Kong, India, Japan, mainland China, Malaysia, New Zealand, Singapore, South Korea, Taiwan, Thailand, the UK, and the US.
In each market, respondents were internet users, aged 18 years or older, had travelled internationally for holidays in the past two years and had the intention to do so again in the next two years.
Travellers most likely to visit Viet Nam in the next two years ranked natural scenery, a new place and affordability as top attractions. They are also likely to be single and prefer to stay at four-star hotels compared with other types of accommodation. They will budget more than US$1,200 for their next vacation and pay more for good food and the opportunity to experience new cultures.
International tourist stays in Viet Nam averaging at 3-5 days, according to survey results.
About 40 per cent of respondents said they preferred to pay with credit cards because it allowed them to avoid carrying large wads of cash which can be cumbersome and risky.
Truong Minh Ha, Visa country manager for Viet Nam, Cambodia and Laos, said: "With tourism emerging as one of Viet Nam's key economic drivers, this survey is timely as it shows us where visitors to Viet Nam are coming from, their plans and what motivates them. This information is very useful for the Vietnamese tourism industry to help identify opportunities and create promotional activities based on their preferences to attract more tourists."
Using these survey findings, Visa would continue to work with the Viet Nam National Administration of Tourism (VNAT), local tourism operators and retail merchants in its efforts to draw more visitors to Viet Nam, she said.
To lure more the tourists to the country, Viet Nam would make bold investments in infrastructure remodelling, tour guide training, service quality improvement and environmental protection towards sustainable development under the industry's development strategies by 2020-30, said Nguyen Manh Cuong, Deputy Director General of VNAT.
"Viet Nam welcomed 4.2 million foreign visitors in the first 10 months of this year, up 40 per cent against the same period last year and Viet Nam posted one of the highest tourist growth rates in the region," he added.
"With an estimated 420,000-450,000 inbound tourists expected each month in November and December, it is completely possible for the tourism industry to reach 5 million by the end of the year, 1.2 million higher than last year."
Based on this, the number of international visitors to Viet Nam was estimated to climb to 5.1-5.5 million next year.
"However, entry visa procedures into Viet Nam are still complicated and we need to promulgate more online information because the internet is one of the most effective tools for the visitors to learn more about us," Ha said.
Source: VNS