Tourist numbers are recovering but Vietnam's hospitality sector must be fully prepared for the more choosy tourist created by the financial crisis.
The performance of Vietnam hotels and resorts has begun to stabilise over the last few months as tourist arrivals increase and business visitors return. Total international arrivals in the first 10 months of 2010 stood at 4.2 million, an increase of 39.0 per cent over the same period last year. International and local investors have re-entered the hospitality market, with new projects being launched. "Better medium- and long-term investment opportunities are appearing in Vietnam due to its stunning coastal areas, beautiful mountains and highly-populated cities," said Mr Robert McIntosh, Executive Director of CBRE Hotels. "By capitalising on this unexplored country, a number of projects have been successfully completed and launched over recent years, making Vietnam an underrated market for hospitality investment."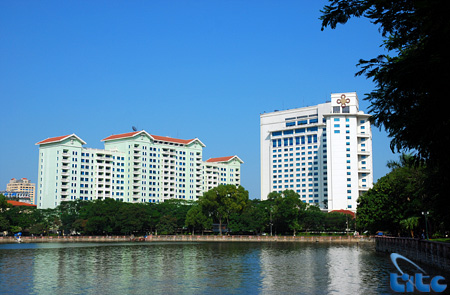 Accor, the largest international hotel operator and management group in Vietnam, with 14 hotels at present, has successfully cooperated with local and foreign investors to expand their brand names in Vietnam, such as Sofitel, Pullman, MGallery, Novotel and Mercure. In Ho Chi Minh City, Accor have reached agreement with the investor, the Liberty Joint Stock Company, to manage the Novotel Saigon Center Hotel, which is being built on the site of the old Que Huong 1 Hotel, and construction of the Pullman Hotel will start in September on the site of the old Metropole Hotel in Tran Hung Dao Street, District 1. The Novotel Saigon Center Hotel, with 350 rooms, is to open in 2012, and Pullman Hotel in 2013.
In Hanoi, Accor have also reached agreement to manage the Horison Hanoi Hotel, which will be renamed the Pullman Hotel in the middle of 2011. According to Mr Patrick Basset, Vice President for Operations for Vietnam, the Philippines, Japan and Korea at the Accor Group, within the next two years it will manage 12 more hotels in Vietnam, including two Ibis hotels in Ho Chi Minh City, a Pullman Hotel in Vung Tau, the Novotel Imperial Hoi An, and the Novotel Imperial Phu Quoc. With these new projects, Accor will be managing 2,000 more rooms, double the number now under its management in Vietnam.
Vietnam's hospitality market is moving to a more complex stage. Both international and local investors have made changes in cooperative relations with leading hotel management groups around the world, to enhance international standards and services. Starwood Hotels and Resorts Worldwide will manage Le Meridien Saigon, which received investment of $120 million from Phuoc Tien Ltd and the 990 Trading-Manufacturing-Services Company. The 357-room, five-star hotel will open in Quarter II, 2011. Another brand of Starwood Hotels and Resorts Worldwide, Westin, has also come to an agreement to manage The Westin Resort and Spa in Cam Ranh, Khanh Hoa province, which is invested by the Phat Dat Real Estate Company, when it opens in 2012. Fei Yueh Vietnam (Taiwan) also signed a contract with JAL-Hotels (Japan), to manage the Nikko Saigon Hotel, which is now under construction with investment capital of $100 million.
Mr Mauro Gasporotti, Manager of Hospitality Services at CBRE Vietnam, remarked that Vietnam's hospitality business has been changed by the financial crisis, with clients now becoming more demanding as more options are made available. New projects either under construction or near completion will have to face fiercer competition and more sophisticated clients than in the past. Vietnam's hospitality sector is clearly advancing to a point where the market is ready for the development of more refined products targeting more refined clients. He added that it is necessary to have a better mix of design, quality, prices and services made possible by clear, meticulous and more informed development planning; something rarely seen before in Vietnam.
The inbound tourism market in the short-to-medium term is still not clearly defined, as the client mix for city-based hotels and resorts continues to evolve. High unemployment rates in the US and Europe have had a detrimental effect on the number of westerners travelling to Southeast Asia. Conversely, the number of Chinese and Russian travellers to the continent appears to be increasing. "Looking at the short-term, the market suggests concentrating on developments and services tailored towards countries where visitor numbers are increasing," said Mr McIntosh. "The focus will increasingly be on Asian demand."
Significant demand is now also coming from Vietnamese travellers. "Vietnamese clients are not the same as they were a few years ago," said Mr McIntosh. "They are more demanding, more conscious about value and services and better informed. Developers that simply replicate existing concepts will face many difficulties in a rapidly evolving market like Vietnam." According to Mr Gasparotti, more accurate planning and preparation, including preliminary studies of target clients, the selection of an appropriate operator and reviews of existing investment strategies are keys to a successful hospitality project.
Source: VnEconomy News