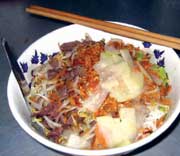 For what it lacks in frills, Bun Bo Nam Bo compensates with its namesake's well-crafted taste. Julie Ginsberg confesses to a new addiction.
At Bun Bo Nam Bo, the name says it all. That's what they do, and they do it well.
One should not visit this tiny establishment, basically an expanded street vendor, seeking a classy meal. One glance at the banana leaves and napkins littering the floor gives that away.
Nor should anyone come to 67 Hang Dieu Street in pursuit of an ambient meal. The cacophonous din from the small TV perched in the corner in symphony with the humming fans makes that quite clear as soon as you sit down.
Couples looking for a romantic dinner had better look elsewhere; the bench seats and long metal-topped tables are in no way suited for intimacy.
If, however, you would like a warm bowl of bun bo nam bo, a concoction of noodles and beef topped with peanuts, dried onions, bean sprouts, green papaya and a mysterious blend of vegetables and herbs, then you should absolutely try this place bearing its name.
Looks aren't everything: Bun Bo Nam Bo's signature dish isn't your average bowl of noodles and beef.
How can Bun Bo Nam Bo be so bold as to establish a pseudo-restaurant named after one dish and then serve only that dish? Because it's delicious, that's why. There's no need to complicate matters. Just say, "mot" ("one") to the woman at the entrance sitting behind the table covered with bowls of ingredients and grab a spot on a bench and two wooden chopsticks. When a bowl appears before you moments later, lose yourself in this delightfully crunchy, not quite sweet and slightly sour blend of noodles and tender beef in a little broth. Bottles of vinegar and chilli and soy sauces allow the diner to personalise the dish with an added sour, spicy or salty touch.
Bun Bo Nam Bo's clientele is a testament to its stellar reputation among Vietnamese and foreign diners alike. At 6.30pm, when the restaurant's benches are lined with dinner customers, a few foreign faces always dot the crowd.
Bun Bo Nam Bo's longevity leaves little doubt that the place is an institution in this town. While many Ha Noi restaurants close down within a year or two of popping up, Bun Bo Nam Bo has been around since 1988. Since then, they've tweaked their recipe to suit Hanoians' tastes, as the dish originates in the central provinces and is uncommon in the region surrounding Ha Noi. The small, grey-haired owner, who lives above the restaurant, can often be found sitting by the entrance next to his daughter as she settles customers' bills.
Though bun bo nam bo is obviously the restaurant's speciality and its only main course, customers can accompany their meals with gio, a sweet, buttery fried bread for those throwing their diets to the wind. Bun Bo Nam Bo also serves nem chua, fermented pork rolled in banana leaves, then eaten dipped in chilli sauce. According to Vu Ho Chi, my guide to all things Vietnamese, nem chua goes well with beer, the beverage of choice at Bun Bo Nam Bo. Customers can choose from a selection of beers ranging in price from VND10,000-15,000, and soft drinks are also available.
Bun Bo Nam Bo's decor is nothing to write home about – a lone Tiger beer poster adorns the walls. Nonetheless, the atmosphere is warm and inviting both for groups of friends chatting over beers and for individuals wanting to devour their bun bo nam bo in peace. Alone or with friends, seasoned ex-pats and short-term visitors alike should not leave Ha Noi without trying Bun Bo Nam Bo and forever altering their notions about the value of VND16,000.
Address: 67 Hang Dieu Street
Hours: 7am-10.30pm
Phone: 04-8245352
Comment: A delicious way to spend VND16,000
Collected by Vietnam Travel Blog