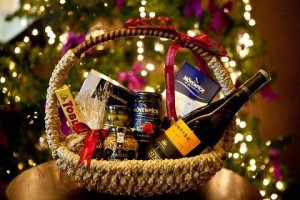 As jingle bells start chiming, Mövenpick's hotels in Ho Chi Minh City and Hanoi are packing holiday hampers and putting the final touches on a series of holiday menus.
At both the Mövenpick Hotel Hanoi and the Mövenpick Hotel Saigon, buyers may choose from a  range of holiday favorites for gift hampers. Some of the hampers will be pre-packed. Others may be customized by buyers, who can choose from a wide selection of retail products, including wine, coffee, gingerbread, chocolate and other temptations.
Meanwhile both hotels are launching special brunches and buffets to celebrate the holidays.  In Hanoi, a festive season brunch series gets underway Nov. 28 and runs every Sunday through Dec. 19, including Christmas. In Saigon, there's brunch on Christmas Day, offering an opportunity for a wonderful, festive dining experience.
Both hotels plan to celebrate Christmas dinner at their signature restaurants. In Saigon, Santa Claus will be distributing Christmas gifts to the kids in the lobby. In Hanoi, special Christmas activities will be available to children in the playroom.
Likewise, New Year's Eve will see a set dinner in Hanoi, and a buffet in Saigon.
For additional details on happenings at each property, see further details below.
Gift Hampers at Cây Đa Café
This year, Mövenpick Hotel Saigon presents roast turkey, goose or honey glazed ham and such holiday favourites as cranberry sauce, apple and chestnut stuffing, red cabbage and dumblings, for a celebration sure to create memories. Turkey to go for only VND 1,880,000+.
Choose from a wide range of Christmas hampers from VND 590,000+ to VND 3,900, 000+ or create your own with a selection of over 120 retails products from VND 89, 000+.
Imported Christmas products such as Italian Pannetone, German Gingerbread or Swiss chocolates can also be found at our Cây Đa Café.
Festive Buffets at Café Saigon
Our festive buffets celebrate the traditional tastes of Christmas. Special appearance by Santa in the lobby with gifts for the kids.
– Christmas Eve Dinner, 24 December 2010 from 6.00 pm to 10.30 pm, including a welcome cocktail, free flow of sparkling wine, wines, soft drinks and draft beer, at VND 1,300,000++ per adult.
– Christmas Day Brunch, 25 December 2010 from 11.30 am to 2.30 pm, including free flow of sparkling wine, wines, soft drinks and draft beer at VND 880,000++ per adult.
New Year's Eve Seafood Dinner Buffet, 31 December 2010 from 7.00 pm onwards, including a welcome cocktail, free flow of wines, soft drinks and draft beer at VND 1,280,000++ per adult. For all bookings of four for New Year's Eve, made before 20 December 2010, a bottle of sparkling wine will be served with our compliments.
Finest Dim Sum and exciting Chinese set menus at Lotus Court
On 24, 25 & 31 December 2010, the Lotus Court is putting on the holiday sparkle with its two set menus, available for both lunch and dinner, including free flow of Lucky beer and soft drinks.
On 26 December, your favourite all-you-can-eat dim sum brunch is also available as other Sundays, at VND 250,000++ per person.
IKI Hotpot during the Festive Season
Experience our mushroom & meat hot pot for four persons, including free flow of Saigon beer and soft drinks at VND 499,000++ per hotpot (maximum of 4 guests)
Gift Hampers
For this festive season, show your appreciation to your clients, friends or family and present them with a basket of thoughtfully selected items during the time of the year when food & drink are central to the festive celebrations.
Choose from two different sizes and one 'Deluxe' version full of luxury delicacies…
•    Medium sized Christmas Hamper for VND 800,000net
•    Large sized Christmas Hamper for VND 1,300,000net
•    Deluxe Christmas Hamper for VND 1,500,000net
Available from November 28th until December 27th in our Lobby or via telephone orders.
Special requests for individually created baskets are available to meet your particular specifications. Discounts are applicable to volume orders.
Christmas Eve Dinner Buffet and Festive Season Brunches
At the Mövenpick Hotel Hanoi, we pride ourselves in providing you the right venue coupled with the sumptuous dining experiences to celebrate your cherished and joyful festive season together with family and friends.
—–
The talented Executive Chef and his team are pleased to offer superb Christmas themed buffets with an irresistible selection of traditional Christmas delights. Your children will enjoy Christmas activities in our playroom for kids.
Christmas Buffet Dinner, Friday 24th of December, 6.30 pm – 10.30 pm at VND 780,000++
Christmas day Brunch, Saturday 25th of December, 11.30 am – 2.30 pm at VND 580,000++
Festive Season Brunches, 28th of November, Sundays 5th, 12th and 19th of December, 11.30 am – 2.30 pm at VND 580,000++
The above rates include free flow of soft drinks, beer and house wines.
Festive Luncheon and Dinner Specials
While Christmas only lasts a few days, the festive season surely starts sooner. Having waited for an entire year for this special time, we have prepared an array of traditional Christmas dishes that certainly will get you in the festive mood.
Experience traditional Christmas dishes such as  roast duck with chestnuts stuffing, roast turkey with spiced cranberries on red cabbage, Australian beef tenderloin "Wellington" and many more of those marvelous festive delights.
From December 1st to 24th, available for lunch and dinner at Mangosteen restaurant.
New Years' Eve Dinner & Dance
No matter if you want to party or dine in style – the Mövenpick Hotel Hanoi offers something for everyone. Enjoy a tempting six-course menu served at our Lounge 83 before our live band and DJ get the party started at Mangosteen. Join us at the most awaited and exciting countdown event in town.
The price for the  six-course set menu dinner including free entrance to the party with free drinks, snacks and entertainment is VND 1,500,000++. The dinner starts at 7.30 pm.
Tickets for the party including free drinks, snacks and entertainment is VND 740,000++. The party kicks off at 9 pm at "Club Mangosteen" on the 2nd floor.