Vietnam has potential to develop a very strong homestay tourism market, a Malaysian tourism official told the Malaysia Homestay Seminar and Travel Mart at the Duxton Hotel Saigon in HCMC.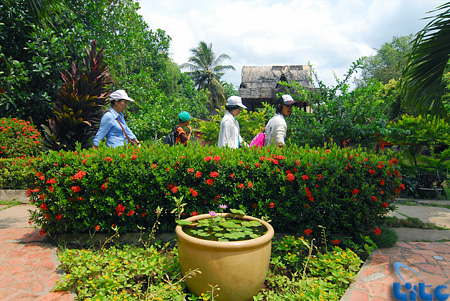 "We are proud of our country and the achievements of homestay tourism. Your country is endowed with beautiful natural landscapes, your country has enough human resources, and I think you, Vietnam, can also develop homestay tourism as much as we are doing and have done," said Mohd Akbal Setia, Director of Malaysia Tourism Promotion Board in HCMC on Saturday. Dato Hj Sahariman Hamdan, Chairman of Malaysia Homestay Association, said that homestay tours are an experience where tourists stay with selected families, interact and experience the daily life of these families and local culture.
The local tour operators that attended the event were very interested in the success of Malaysia's homestay industry. It is not classified as accommodation, Setia said. Tourists to each state in Malaysia can taste the state's unique culture and entertainment activities such as traditional dances, songs, food, folk games and sports, he said Homestay visitors get to witness first hand farming practices such as rubber tapping, fish farming, paddy farming, cocoa, palm oil, fruits and jungle trekking, white water rafting, and craft villages, he said.
"We have jungle homestay, we have island homestay, we have paddy homestay, we have mountain homestay, so we offer diverse options for tourists," Dato Shahariman said.
As far as landscapes and places of interest were concerned Vietnam was on a par with Malaysia and should exploit the potential, the conference heard.
"Homestay's development is based on the landscapes, cultural and historical values and people, said Lam Van Son, director of Can Tho Tourist Company.
"We can have mountain homestay in Daklak, Sapa, Lai Chau, island homestay in Nha Trang, Phu Quoc, orchard homestay in Can Tho, Vinh Long, craft village homestay in Hanoi and highlands homestay in Dalat," Son said. Huynh My An, marketing manager of Viettours said, despite having 54 ethnic groupings with rich cultures and histories, we still don't know how to promote it to international tourists.
Established since 1995 at Temerloh Village in Pahang State, the Malaysian homestay program has spread to 227 villages around the country. Local villagers are trained by the governmental organizations and can earn good incomes, said Dato Sahariman, adding that last year, Malaysia had 161,000 tourists that used homestays.
"The Malaysian government has provided significant funding to build infrastructure in remote areas and a lot of farmers can speak English to communicate with tourists. In Vietnam, we need support from government and an association for homestay tourism," said Nguyen Thi Anh Tho, director of Viet Legend Travel.
"We have homestay services scattered in some regions such as Mekong Delta, Mai Chau, Buon Ma Thuot and Dalat but they have developed in isolation, so we are not using everything we can to develop the service," Tho said.
Source: Saigon Times