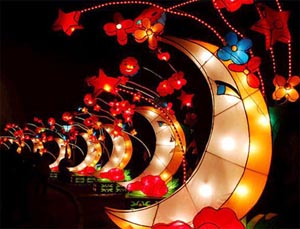 Thang Long Lantern Parade, the largest event of its kind so far, will take place on Mid-Autumn Festival Eve on September 22 around Hoan Kiem Lake.
Sponored by Tivi Phale Co.,Ltd., the parade will have the participation of a unicorn-lion-dragon dance troupe, including a dragon of 1000 meter. Up to 1000 lanterns will be used in the parade, plus 1200 lantern decorations along the street by Hoan Kiem Lake. Around 1000 lotuses will be released in Hoan Kiem Lake as well.
After the parade, the Mid-Autumn Festival will be held at Ly Thai To flower garden for kids. 1000 pupils from kindergartens will perform songs and dances. The party will feature two giant moon cakes.
The Mid-Autumn Festival, also known as the Moon Festival, is a popular harvest festival celebrated by Chinese and Vietnamese people. It is held on the 15th day of the eighth month in the lunar calendar, which is usually around late September or early October. It parallels the autumnal equinox of the solar calendar, when the moon is supposedly at its fullest and roundest. The traditional food for this festival is the mooncake, of which there are many different varieties.
Traditionally, Vietnamese family members and friends will gather to admire the bright mid-autumn harvest moon, and eat moon cakes and pomelo together. The Vietnamese version of the holiday recounts the legend of Cuoi, whose wife accidentally urinated on a sacred banyan tree, taking him with it to the Moon. Every year children light lanterns and participate in a procession to show Cuoi the way to Earth. Besides the indigenous tale of the banyan tree, other legends are widely told including the story of the Moon Lady, and the story of the carp who wanted to become a dragon.
One important event before and during the Mid-Autumn Festival are lion dances. The dances are performed by both non-professional children's groups and trained professionals. Lion dances on the streets go from house to house asking for permission to perform. If accepted, "the lion" will come in and start dancing as a wish of luck and fortune and the host gives lucky money to show their appreciation.
PV
(Source: http://chuckkuhnphotography.blogspot.com)