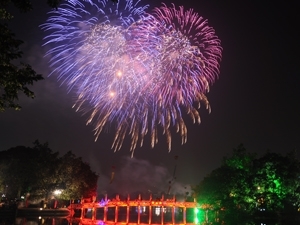 A firework display and an open-air concert brightened Hanoi on the National Day, September 2.
Ten of thousands of people flocked to Hoan Kiem (Restored Sword) Lake in the heart of the capital city to enjoy the fireworks which were set off at 9:00pm and also broadcast live on VTV.
The open-air concert that was performed by 400 singers and dancers, martial artists, and pupils, also took place on the bank of Hoan Kiem Lake .
The artistic performance began with a Lion dance, followed by a demonstration of VOVINAM (Vietnamese marital art), and songs about the Vietnamese people and the country.
The audience also enjoyed video clips featuring Hanoi 's history, from the Dinh Dynasty (968-980) to the day when President Ho Chi Minh read the Declaration of Independence (September 2, 1945).
Firework displays and concert were also held in other locations across the country to mark National Day.